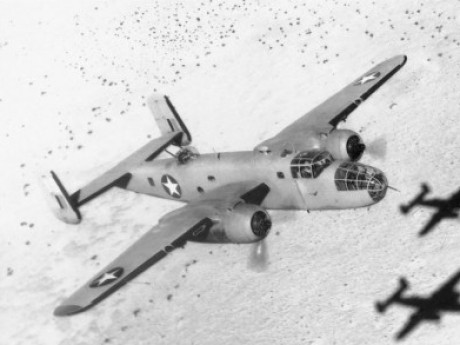 Description
The year is 1942, a dark time for those who stand in the way of the fascist Axis Powers' way. The seemingly invincible Nazi war machine continues to cut a bloody swath through the vast Soviet Union, having already conquered most of Europe while the Empire of Japan has dramatically triumphed over the Allies in the Pacific, claiming the Phillipines, Malaya, Singapore, Hong Kong, Indonesia, Burma, New Guinea, and many other islands in the proccess, adding those territories to their already significant gains in China. The Allies stand at the brink of disaster.
In a bold move to lift the flagging spirits of his battered forces, President Roosevelt authorizes a daring attack on the heart of Japan. For those valiant pilots and crewmen embarking on this strike, it will be a one-way mission, for their planes will not have enough range to hit their targets and return home...
We're still working on the finer points of the opening plot. I hope to focus on the Pacific and/or China-Burma-India theaters of World War II starting in late April-early May of 1942. The current plan involves having a fictitious Doolittle Raider (as the pilots and crewmen of the attack described above have come to be known as) land his plane in Vladivostok, USSR, and earn his and his crewmen's freedom by staging the rescue of an NKVD Officer's daughter that is being held by the infamous (athough quite secret at the time) Unit 731, which tested biological (and some non-biological) weapons on unwilling test subjects. Player characters can be Chinese civilians or soldiers, Japanese civilians, scientists or soldiers, other prisoners held by Unit 731, other American raider pilots or crew (each of the 16 bombers involved in the attack had 5 crew members), German POWs given a 2nd chance at life if they support the rescue mission, or pretty much anyone else that would have a reason to be in the area in such dire times.
If you are interested in joining, but don't quite know what kind of character to make or how to start, feel free to email me or draft a character. I also plan to post something on the Ongoing Worlds Community Platform, so questions can be asked their as well.
---
Story Posts
OOC - Character Label Descriptions
Jan 31, 2020, 11:39pm by Nim
Character Group When choosing a group, ideally choose one that the character is aligning themself with. I'll elaborate on some of the less obvious ones. Commonwealth refe ...
Showing 1 out of 1 posts
---
Post Summary
We're only able to show post summaries on games with 20 or more posts.
---