Summary: He has a quiet nature and friendly demeanor.
Zander Leonidas Nephus
Owned by: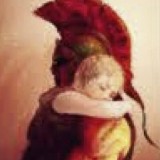 wvhoplite
Gender: Male
Age: 16
Group: Students
Game: The Academy
Nationality
American
Skills, Perks, Talents
Skills:
mechanics 11
wrestling
Super-powers
superhuman strength, and toughness
uncontrolled electrical generation; Blast 1d6-4d6
str 45 [9+(stat/5)] =18
Physical Appearance
Blue eyes, brown hair, aquiline face. Fairly tall for his age. Exceptionally muscular like a Greek statue or amateur body builder.
Personality and interests
He has a quiet nature and friendly demeanor. There is an intensity not so subtly hiding behind his blue eyes.
History
Zander grew up with his mother Dr. Linda Ann Collins. He never knew his father, his mother told him his name was Alexander Nephus and he was a soldier who died in war. She refused to really talk about him. They moved around a lot because she was an archaeologist. Zander grew up around dig sites in distant lands and visiting museums and colleges around the world.
He was always strong for his age but when Zander began to really gain unnatural strength while also accidentally shocking people and shorting out electronics, his mother knew she had to do something. She found the James Madison Academy and was able to enroll him.
---
This character is owned by: wvhoplite
Character questions
Recent Activity
Mentioned in the post
charge
Oct 27, 2020, 10:42am
Mentioned in the post
Times up
Oct 27, 2020, 12:52am
Mentioned in the post
Correction
Oct 26, 2020, 9:44pm
Mentioned in the post
Rock On!!
Oct 26, 2020, 8:49pm
Mentioned in the post
Here we go
Oct 26, 2020, 2:49pm
Mentioned in the post
the books
Oct 25, 2020, 9:20pm
Mentioned in the post
location
Oct 14, 2020, 7:56am
Mentioned in the post
Plans
Oct 13, 2020, 11:25pm
Updated character profile
Sep 27, 2020, 10:08pm
Updated character profile
Sep 27, 2020, 10:07pm
Updated character profile
Sep 27, 2020, 10:07pm
Updated character profile
Sep 27, 2020, 10:07pm
Updated character profile
Sep 27, 2020, 10:07pm
Updated character profile
Sep 27, 2020, 10:07pm
Updated character profile
Feb 10, 2020, 9:42am
Updated character profile
Feb 10, 2020, 8:05am
Updated character profile
Feb 10, 2020, 8:05am
Updated character profile
Feb 10, 2020, 8:01am
Updated character profile
Feb 10, 2020, 7:25am
Updated character profile
Feb 10, 2020, 7:22am
Updated character profile
Feb 10, 2020, 7:20am
Updated character profile
Feb 10, 2020, 7:17am
Updated character profile
Feb 10, 2020, 7:17am
Updated character profile
Feb 3, 2020, 7:29am
Updated character profile
Feb 3, 2020, 7:11am