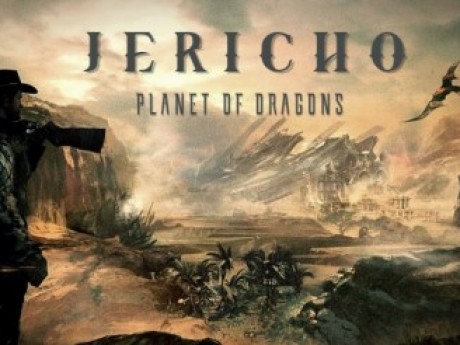 Description
[DISCLAIMER: This game is currently at capacity and will not be taking any new players at the current time.]
In the distant future mankind has begun to spread across the stars. An endeavor fueled by both a desire to explore uncharted worlds and the never-ending greed of the mega-corps that dominate the Central Systems at the heart of galactic civilization.
On the fringes of known space lies a world that would be considered of little interest were it not for the peculiar form of life that has evolved there: dragons. On this desolate world the colonists of the ship Jericho (of which the planet gained its name) learned to tame these deadly beasts for their own use and thrived for many years until the civilized world came in the form of other settlers, criminal syndicates, and mega-corps looking to exploit the planet.
In the years since, lawlessness and illegal activity run rampant across the surface of the planet. To combat this the capital city of Jericho's Landing created a peace-keeping force of dragon riders known as the Dragoon to maintain order in a savage world.
Beware all who land on this world, for here be dragons...
---
Latest story summary:
In the frozen wastes of Jericho's Northern Ice Shelf resides Golden Peak, a bountiful gold mining operation funded by mega-corps vying for the gold in the titular mountain. And now it is the home of Dr. Lanstrom, a twisted scientist who was once the head chemist of The Crimson Queen. Lanstrom has broken away from the Kingdom and plans to unleash her Uplifted upon Jericho and reign as a god. And only The Queenslayers can answer her challenge...
Posted by: Avenuewriter on May 18, 2020, 9:30pm
---
Story Posts
Lanstrom's Curiosity
May 26, 2020, 3:06am by Avenuewriter
(OOC: This is a joint post between me and Lily.) Oriel opened the cell door to The Oddity's room. Its name was Aurora but to Her she was only that: an Oddity. Oriel had heard The Oddity ...
Showing 4 out of 336 posts
---
Post Summary
| | Jan | Feb | Mar | Apr | May | Jun | Jul | Aug | Sep | Oct | Nov | Dec |
| --- | --- | --- | --- | --- | --- | --- | --- | --- | --- | --- | --- | --- |
| 2020 | | 102 | 108 | 85 | 41 | | | | | | | |
---