Summary: One of the last of the Samurai
Takeda Hanshiro
Owned by: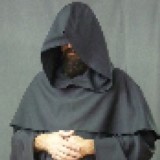 TheGreyCleric
Gender: Male
Age: 24
Group: Travelers (Past)
Game: Savage Lands
Time/Place of Origin
Around the mid 1860's feudal Japan when the Samurai class was being disbanded.
Occupation/Title/Rank
Merchant
Appearance/Dress
Takeda dresses in traditional Japanese clothing. He wears a black men's kimono with sock and wood sandals. With a grey cloak (have to find the proper term for the garment).
Personality/Interests
Takeda tends to be serious about things, even having fun. He has been exposed to the industrial revolution of the west and the civil war in Japan he is caught between the "old ways" and the new western ways.
He is interested in learning and improving his craft and skills.
Background/History
Takeda Hanshiro is one of the last to be trained in the art of the Samurai. He he lives his life the code of Bushido. To strive to better oneself and learn, to be physically fit and prepared for battle and death. He is trained in the bow, the swords, dagger, and unarmed fighting.
His family is land owners that grow rice and other agricultural products. In the last ten years, his family has come into it's wealth from the gun trade that is taking place in Japan at this time. Takeda has traveled to Britain and studied there for a couple years. He was regarded as a social oddity or curio in British society.
He is struggling with the social change. He carries his swords wrapped in a leather binding that is tied. He still practices in secret, to do so openly would bring dishonor on his family. He carries a "new" colt six shooter and a flint lock rifle, and ammunition that he is peddling for his family.
Weapons/Equipment
A colt six shooter, a rifle (need some help, don't think they were Carthage loaders), his swords.
Advantages/Disadvantages/Quirks
Advantage
Curiosity- part of the code is to study and learn new things.
Knows how to make black powder and cast bullets.
Can make a basic bow and knows some blacksmithing.
Disadvantage
Very Honor based - Personal honor, family honor above all else. He can't let an insult slide.
Quirk
He is very ritualistic in his personal habits and care for his weapons.
Favourite Sayings
"The samurai is the first to suffer anxiety for human society, and he is the last to seek personal pleasure."
Death is already here, we should meet it.
Character Notes
Working on this
---
This character is owned by: TheGreyCleric
Character questions
Recent Activity
Updated character profile
May 5, 2020, 5:08am
Mentioned in the post
Prep
Apr 19, 2020, 8:20pm
Mentioned in the post
Assembling
Mar 23, 2020, 9:38pm
Updated character profile
Feb 12, 2020, 11:49pm
Updated character profile
Feb 12, 2020, 11:48pm
Updated character profile
Feb 12, 2020, 9:26pm
Updated character profile
Feb 12, 2020, 8:58pm
Updated character profile
Feb 12, 2020, 8:50pm
Updated character profile
Feb 12, 2020, 8:30pm