Summary: An Eloi Companion from the Machine City
Ell
Owned by: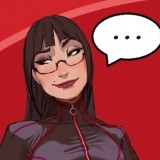 D2wintr
Gender: Female
Age: Unknown
Group: Native (Advanced)
Game: Savage Lands
Time/Place of Origin
Native Advanced / Eloi / Machine City
Occupation/Title/Rank
Companion
Appearance/Dress
Ell is slight woman with long gold colored hair and petite stature standing just shy of 5' tall.
Ell dresses in the common style of the Eloi often simply a white tunic of a Greco-roman styled made of light silk fabrics.
Ell wears a number of adornments of gold and platinum in leaf like patterns consisting of bracelets, anklet, necklace, rings, and belt.
Personality/Interests
As a Companion Ell's duty is to act as caretaker and proxy between her Traveler and the Eloi of Utopia. A duty she takes very seriously.
Unlike the majority of Eloi one could encounter in Utopia. Ell is clearly a more Independent thinker and a great deal more intelligent than her sisters.
Background/History
Ell is young by Eloi standards and like most Eloi found in the Machine City really has no concept of history beyond what she has been taught by the cities Central Intelligence.
Weapons/Equipment
** Rings of Healing - A simple pair of platinum rings that used together can perform diagnostic functions and heal most injuries.
While Violence is all but unknown to the Eloi. Companions like Ell are trained to use the rings to render an Individual unconscious if required.
** Memory Link - An item common among the Eloi the Memory Link ( Or simply Link ) is a self contained image and audio recorder coupled biometric data collection device used by the Machine Men to look after the Eloi of Machine City. It role among the Eloi has expanded to include communication and entertainment.
** Translator - A necklace fitted with A device that allows an Eloi to understand and learn languages unknown to them.
Advantages/Disadvantages/Quirks
Native, Quick Learner, Empathic
...
Young, Limited Real World Experience
...
Small - Childlike
Character Notes
None
---
This character is owned by: D2wintr
Character questions
Recent Activity
Updated character profile
May 9, 2020, 5:06am
Updated character profile
May 9, 2020, 5:00am
Updated character profile
May 9, 2020, 4:05am
Updated character profile
May 9, 2020, 4:00am
Updated character profile
May 5, 2020, 6:05am
Updated character profile
May 5, 2020, 5:00am