Summary: A man trying to find a reason to live.
Jin'Lor Venneroe
Owned by: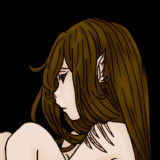 Morphy514
Gender: Male
Age: Appears to be in late 30's
Group: Travelers (Future)
Game: Savage Lands
Time/Place of Origin
Early 300o's - Earth Galaxy
Occupation/Title/Rank
Geneticist
Doctor
Inventor (DNA based)
Appearance/Dress
Average height with brown hair and dark blue eyes, he has fair skin and sharp claws. A scar encircles his neck and another follows his spine from tailbone up to the back of his head where it disappears into his hair.
His wardrobe consists of jeans, boots, a t-shirt, and his jacket.
Personality/Interests
A bit of a psychotic individual, but a gentleman deep down, he tries to be friendly. His bad habit of playing games gets him into a lot of trouble, though.
Background/History
Born on Saturn in a time where all of Earth Galaxy's planets are occupied, he grew up learning genetics and how to use blades. Over the years as he made too many mistakes and essentially got killed, only to wake up with more problems than before.
Years later, he seems to have lost everything and has no purpose, just traveling from planet to planet alone until he finally woke up in Savage Lands.
Weapons/Equipment
Seven Custom Built Knives
Katana
Medical Scalpel
Small Journal - He writes in it a lot
Advantages/Disadvantages/Quirks
Regenerative ability that lets him heal faster than most, but in Savage Lands it is cut by half and he is forced to be more careful or risk actually dying.
Mental instability where he can't quite keep things straight.
Favourite Sayings
"I have no purpose..."
---
This character is owned by: Morphy514
Character questions
Recent Activity
Mentioned in the post
Flight
Nov 18, 2020, 10:58pm
Mentioned in the post
Jam It In
Nov 18, 2020, 10:40pm
Mentioned in the post
Decoy
Nov 17, 2020, 6:04pm
Mentioned in the post
what now?
Nov 3, 2020, 8:26pm
Updated character profile
Oct 20, 2020, 11:31pm
Updated character profile
Oct 16, 2020, 3:27am
Updated character profile
Oct 16, 2020, 3:23am