Summary: Trying for a second chance
Holly Wood
Owned by: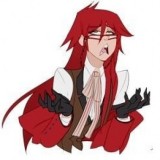 LaserSexPanther
Gender: female
Age: 28
Group: Heroes
Game: The New Heroes of Capitol City
Alias
previously known as: Domino
Powers/Skills
Skilled fighter, acrobatics, melee weapons training. More durable then most but not super human
Physical Appearance
Blonde hair, red cheeks, black lipstick on her upper lip pink on bottom, heavy black eye make-up, wears a white dress shirt, bow tie, suspenders and black trousers.
Personality and interests
Weird and quirky, just says what she is thinking sometimes.
Revenge, and turning over a new leaf and becoming a hero, or at least seen as less of a villain.
Likes My Chemical Romance and musicals.
History
In a previous life she worked for a criminal maniac knows as The Showman. A crazy ringleader, with a thrill for the dramatic and a soul cursed to hell. The two were a perfectly in sync pair. Until the picked the wrong target. One set up with them in mind. Something the The Showman's greed wouldn't allow him to pass by. During the heist they were both shot another Villain trying to get the same prize. The Showman was killed and she was injured, arrested and spent 7 years in prison. Recently releases she has turned over a new leaf but still runs into issues of police thinking she is still committing crimes.
---
Character questions
Recent Activity
Mentioned in the post
Annoying
Jun 10, 2020, 9:44am
Updated character profile
Apr 8, 2020, 7:26pm
Updated character profile
Apr 8, 2020, 3:08am
Updated character profile
Apr 8, 2020, 3:00am