Summary: Here to get the job done, hay you are in my way.
Kent Glenn Davenport
Gender: Male
Age: 35
Group: HMC Personnel
Game: HMC
Nationality
United States, born in Texas, San Antonio
Physical Appearance
Appearance: He is of large stature and muscular in his 30s. he stands 6 foot tall and weighs about 250 pounds. His eyes are a type of blue with red brown hair. He is of large stature and muscular. He is normally wearing his old Multi-cam Uniform Boonie Hat Black Color T-Shirts Combat Jacket Combat Pants and Combat Boots his uniform color Multi-cam have background colors of a tan to brown gradient with shades of lime green in between. The core of the Multi-cam pattern consists of a yellowish green gradient and blotches of dark brown and a light pink-like color spread throughout the design. Overall, this allows for the uniform's appearance to change from slight green to brown in different areas of the fabric. The impressive aspect about the Multi-cam uniform is that it hides a figure by tricking the eye's perception of color. The Multi-cam uniform enables the wearer to blend into the background environment solely utilizing an innovative camouflage pattern.
Background
Call sign: Wrecker
He joined the Army at seventeen going to in the Army infantry for 4 years. He applied for Ranger school in his 4th year of service and passed the school with high honors. He stayed with the Rangers for two years applied for Special Forces school and made section there and graduated with honors striving to be the best soldier in his class. After just two more years he tried out for Delta Force made section and passed the school.
Delta Force "Operators" It requires a certain breed of person. Most of what the Delta Force does is highly classified This training runs the gamut from typical physical conditioning to specific skill sets like marksmanship and demolitions. Operators need to be in top physical shape, with great eyesight and no physical defects or mental illnesses that may impair long deployments in harsh conditions, but you have to be Tony Stark bright. They be required, with little to no prior knowledge, to disarm a bomb, hack into a computer, or triangulate the coordinates of a commercial flight path while calculating the odds. Their social skills must also be top notch as, once they're dropped behind enemy lines, they may need to communicate and recruit the locals for various tasks. There's the mental toughness. Operators don't just learn how to take abuse. They learn how to love it. some activities performed. Teach tasks in demolitions, explosives, field fortification, bridging, rigging, reconnaissance and civil action projects. Interpret maps, overlays, photos and charts Carry out demolition raids against enemy military targets, such as bridges, railroads and fuel depots Employ warfare tactics and techniques in infantry operations Manage all aspects of logistics for an Operational Detachment on the ground expeditionary missions as well as supervise all firebase operations, specializing in raids and assault missions deep inside enemy territory. special operations raids, forcible entry operations, Intelligence gathering and reconnaissance deep into enemy held territory. Now dealing with a problem he thought he would never see, zombies. From the out brake he as been working with the CIA as an Operative but with the governments failing slowly no one knows how long we have left.
Equipment
M9 bayonet and M10 scabbard 'product improved' sheath
USSOCOM MARK 23 .45 with sound suppressor 8, 15 round mags
M26 shot gun 12 gauge mounted under 416 D, 5, 5round mags
Heckler & Koch modular 416 D, 5.56 with sound suppressor 24, 40 round mags
Tactical Modular System Body Armour REV Pulse Body Armour level III, SFLCS, or the Special Forces Load Carrying System, Radio AN/PRC-148 MBITR, other needed equipment. BAE Systems MOLLE and PALS Modular Lightweight Load-carrying Equipment Pack, ammo cases (containing clips compatible with his rifle), SOG Multi tool Pliers - Power Assist Multi Tool Pocket Knife and Utility Tool Set w/ 16 Lightweight Specialty Tools and EDC Sheath, CRKT Kukri knife, Green Beret Knife, M48 Ops Combat Bowie, field kit (containing one Mempa Multi-Purpose Folding Shovel Ultimate Survival Tool w/attachments, that is a multi-purpose tool in one compact piece), Ronin SENSHI Belt, canteen, one medpack, two fragmentation grenades, two smoke grenades, blade 24" length, and one kriss vector sbr suppressed 9mm with sound suppressor and 4, 21 round mags, one large frame backpack, capable of holding 40 kilograms, is issued along with a small frame pack, capable of holding 10 kilograms, 2weeks rations and survival gear. he uses this on his missions. And other equipment needed for the mission and a lot of ammo. The FRAG-12 is a specialized shotgun shell.
---
This character is not owned by anyone. You can adopt them if you become a member of this game.
Character questions
Recent Activity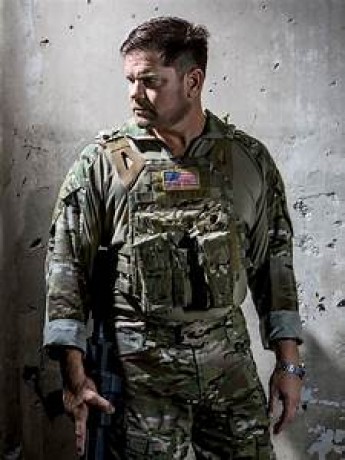 Updated character profile
Apr 24, 2020, 2:20pm
Updated character profile
Apr 12, 2020, 1:40am
Updated character profile
Apr 1, 2020, 8:20pm
Updated character profile
Mar 30, 2020, 1:03am
Updated character profile
Mar 20, 2020, 12:18am
Updated character profile
Mar 18, 2020, 2:07pm
Updated character profile
Mar 16, 2020, 7:04pm
Updated character profile
Mar 16, 2020, 1:55am
Updated character profile
Mar 16, 2020, 1:47am
Updated character profile
Mar 16, 2020, 1:43am
Updated character profile
Mar 16, 2020, 1:39am
Updated character profile
Mar 11, 2020, 10:38pm
Updated character profile
Mar 11, 2020, 10:24pm
Updated character profile
Mar 11, 2020, 10:23pm
Updated character profile
Mar 11, 2020, 10:03pm
Updated character profile
Mar 11, 2020, 9:58pm
Updated character profile
Mar 11, 2020, 6:56pm
Updated character profile
Mar 11, 2020, 2:25pm
Updated character profile
Mar 10, 2020, 11:15pm
Updated character profile
Mar 10, 2020, 9:54pm
Updated character profile
Mar 10, 2020, 9:52pm
Updated character profile
Mar 10, 2020, 5:18pm
Updated character profile
Mar 9, 2020, 11:14pm
Updated character profile
Mar 9, 2020, 3:25pm
Updated character profile
Mar 9, 2020, 3:18pm
Updated character profile
Mar 9, 2020, 3:17pm
Updated character profile
Mar 9, 2020, 2:49pm
Updated character profile
Mar 9, 2020, 2:48pm
Updated character profile
Mar 9, 2020, 2:48pm