Summary: I just want peace. No more have to die.
Will Henning
Owned by: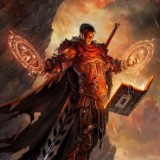 LucianNepreen
Gender: Male
Age: 32
Group: Class D
Game: Abnormals
Anything to add
Born and raised in a small town along the Gulf of Alaska, Will enjoyed a relatively normal upbringing. Folks grew used to seeing his black tears, even hiring him to tame sled dogs and control the local wolves. Prominent scar along his back is from the one and only time he tried to control a bear, surviving due to his intimidation flaring from the trauma.
Powers have been present since childhood, luckily having caring parents that helped him control them as well as use them efficiently.
Shapeshifting appeared at 18, causing the death of several people and turning the town against him, though exiled him instead of killing him because of his parents.
Moving constantly, he has tried to stay away from civilization as much as needed.
Powers
Shapeshift, only one form: Code named-Wendigo.
Large quadruped, longer arms allowing limited bipedal movement. Head appears like a deer skull, in fact heavily armored with large antlers and sharp teeth. Heightened speed, strength, and endurance. Consuming meat allows rapid regeneration.
Supernatural intimidation: Able to force certain animals to serve him, excluding other top predators.(Lions, tigers, bears, oh m- I mean etc...)
Towards beings with higher intelligence, puts them on edge and can cause hysteria depending on victims mental state.
Is able to lower the temperature in his area, if given enough time can freeze anything that nears him.
Immunity to the cold and disease.
Physical Appearance
6'2
192 lbs
Lanky, but well built.
Medium length hair and beard, hair combed back.
Various scars
---
This character is owned by: LucianNepreen
Character questions
Recent Activity
Mentioned in the post
Sandwich
Mar 24, 2020, 9:21pm
Mentioned in the post
Grilling
Mar 20, 2020, 8:57pm
Mentioned in the post
Time to Go
Mar 20, 2020, 11:49am
Mentioned in the post
How
Mar 19, 2020, 9:38pm
Mentioned in the post
In Need
Mar 19, 2020, 6:51pm
Updated character profile
Mar 18, 2020, 11:42pm
Updated character profile
Mar 18, 2020, 10:40pm
Updated character profile
Mar 18, 2020, 10:26pm
Updated character profile
Mar 18, 2020, 10:15pm