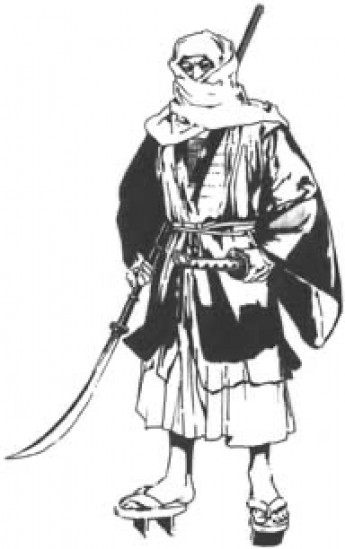 Summary: Shakudo is a warrior/ monk, with quick wits, strong hands and a sharp sword.
Sohei Shakudo Dorje
Owned by: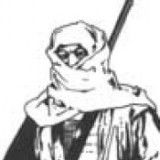 Roanmar
Gender: Male
Age: 39
Group: The Quest Party
Game: The Grand Quests
Race
Human
Class/Role
Monk(Warrior/Priest)
Sohei is a title for a warrior priest.
His name Shakudo, means 'the way of interpretation'
Dorje is the name of his lineage. It is the name of a weapon.
Alignment
He is good and practices religion as an ordained priest. His ordination involved surviving a secret ordeal. A test of physical and mental ability.
He is skilled in the use of the sword for as he was taught, the sword is the giver of justice.
So long as he adheres his own judgment concerning good and evil he is in adherence to his religion.
(Lawful/Good)
Skills/Abilities
Sword, staff, hand to hand, read, write, horse ridership, flute, draw, map making, archery, ki
Items
Katana(sword), knife on a pole (naginata), bow w12 arrows, standard adventure kit, writing kit, horse, strange looking, white, shingled, leather armor.
He also has a long dagger with a black wrapped handle (like his sword.)
He carries a string of wooden beads around his neck and hidden by his top.
Also two books.
Personality and Interests
Quiet and peaceful, but quick to action when called for. He practices his martial skills and meditates when time permits. Writes poetry, plays flute, likes to help others. During quiet times he occupies himself practicing his kata (dance like movements that seemed to simulate a fight) or sitting on the ground meditating and quietly chanting to himself or making strange fingers configurations.
Beside his writing book for drawings, poetry and such, be carries another small leather bound book, which he keeps hidden in an inner pocket in his shirt.
Backstory/History
Shakudo grew up in a monastery in the mountains, in a land far to the east, from age 4 on. He was trained in all forms of armed and unarmed martial arts. He was also trained in the music, the visual arts, reading, writing, arithmetic, history and so forth. Much of his time at the monastery was taken up by prayer and meditation.
He was a good student, but something of a loner (or outcast.) He is now a traveler, and adventurer. Alway in the back of his mind is his mission to the leaders back at the monastery. A secret mission, it is the main reason he finds himself in this far away land.
He knows it involves something that was stolen many years ago from the monastery, a book or scroll perhaps. He learned it was worthless and and beyond worth.
Physical Appearance
About 5'8" and a muscular 190 lbs. he has close shaved black and grey hair and a short beard. His eyes are narrow and somewhat slanted , he wears white baggy pants and gi tight at the forearms and lower legs. He wears a white scarf over his head and lower face, except when he's eating or speaking. With his face uncovered some would find him somewhat handsome.
---
This character is owned by: Roanmar
Character questions
Recent Activity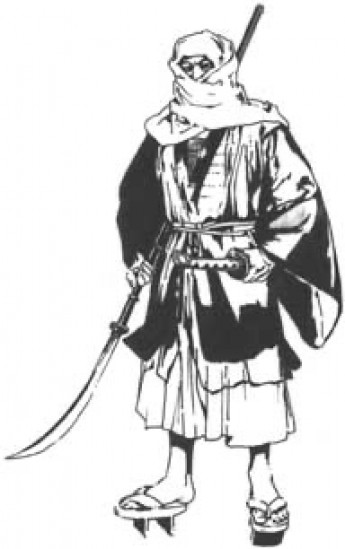 Mentioned in the post
Light...
May 20, 2020, 12:46pm
Mentioned in the post
Earthquake
May 18, 2020, 2:59pm
Mentioned in the post
Talk
May 18, 2020, 7:27am
Updated character profile
Apr 26, 2020, 8:34pm
Updated character profile
Apr 21, 2020, 3:54pm
Updated character profile
Apr 21, 2020, 2:03pm
Updated character profile
Apr 18, 2020, 8:37pm
Updated character profile
Apr 18, 2020, 8:37pm
Updated character profile
Apr 18, 2020, 11:04am
Updated character profile
Apr 11, 2020, 6:14pm
Updated character profile
Apr 11, 2020, 2:34pm
Updated character profile
Apr 11, 2020, 2:18pm
Updated character profile
Apr 10, 2020, 8:45pm
Updated character profile
Apr 10, 2020, 8:35pm
Updated character profile
Apr 10, 2020, 8:30pm
Updated character profile
Apr 10, 2020, 8:17pm