Summary: Hard, kind, and dangerous, Lihn is a martial arts instructor with a vengeful streak.
Nguyen Tai Linh
Owned by: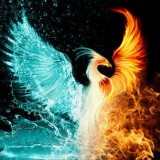 Nim
Gender: Female
Age: 27
Group: Tough Guys
Game: Spirit of '77
Story
HUMBLE BEGINNINGS: Born in a village outside of Saigon, (which has since become Ho Chi Minh City following the triumph of the NVA), Lihn was raised in a tight knit community that made due with little resources.
Buzz
PAYBACK: Lihn came to the United States to settle down with a US Marine by the name of Adrian Brodicker whom she had fallen in love with when he was deployed. Unfortunately for Linh, Adrian now know longer wanted anything to do with her, and certainly didn't want to economically support her, leaving Linh in a tight spot. She has never forgiven him for this betrayal.
Thang
BIDNESS: Lihn owns a small martial arts studio near one of the rougher parts of town.
Hook
Linh's students have crossed fists with Master Tang's students (including Salvation) in annual open style tournaments and have consistantly been defeated by them, earning Linh's ire and respect in equal measure.
Biography
Born in a village outside of Saigon, Linh's family eaked out a living in post-colonial South Vietnam. Her father was a martial arts master who trained both Lihn and her mother.
When war broke out with North Vietnam and the United States began building bases in the country, her parents were able to find work on such a base (her father with training and her mother with food service). All three of them learned English.
Linh began to work at the base when she was 15, and after a year got into a relationship with a young US marine by the name of Adrian Brodicker, which her parents weren't entirely against.
Then Linh's life took a turn for the worse when their village was attacked during the Tet Offensive, an attack that ended up taking the lives of both of her parents. Linh worked on the base for another year during which she leaned (probably too much) on Adrian for emotional support.
When the US began scaling back it's involvement in Vietnam, Adrian was sent back home and Linh was laid off. Now with pretty much nothing, Linh used the rest of her money to get a flight to the United States to go live with Adrian, who had sworn he loved her. Unfortunately, when she did track him down, he changed his mind about everything and wanted nothing to do with her.
Needless to say, Linh was not pleased about that, but being a stranger in a strange land with next to no material possessions, she wasn't in much of a position to do anything about it. Thankfully, she was able to catch a break and live and work at the City's Community Center for a few years while she got legalized.
Having taught her father's martial art at the Community Center, once Linh was in a position to move out, she started her own martial art studio, Nguyen Martial Arts Academy, which has done surpisingly well over the years after a bit of a rocky start.
Family & Friends
Linh has some friends from the City's Community Center and she is friends with some of her students and student's parents.
Hobbies & Interests
Linh spends most of her time training or teaching her students. While very focused on her work, she has spent an unhealthy amount of energy keeping tabs on Adrian and trying to figure out what she wants to do with that lout.
Appearance & Personality
Standing at only 5'5, Linh is 130 pounds of pure kick-ass muscle. While not toned like a body builder, she definitely looks strong.
Linh tends to be a very focused and direct, especially to her students, although she does have a compassionate side. That said, she knows when to be flattering to parents and sometimes students when she needs to sell them her services. She believes in doing good, helping people, and giving back to the community.
Although generally a kind, if rather hard, person, Linh is not the forgiving type, especially when it comes to her old flame, Adrian Brodicker...
---
This character is owned by: Nim
Character questions
Recent Activity
Updated character profile
Apr 14, 2020, 8:45pm
Updated character profile
Apr 12, 2020, 12:53pm