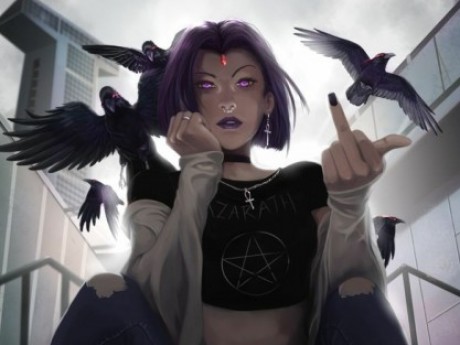 Summary: Goth girl who is perhaps a little stranger then most.
Evelynn Worth
Gender: Female
Age: 20+
Group: Lucid Dreamers
Game: Lucid
Nickname (optional)
Eve L.
Physical Appearance
An attractive girl in good shape with short cut dark hair sporting blue highlights who stand roughly 5'5" tall.
Dress wise its clear that Eve L has a thing for the dark and gothic when it comes to her fashion sense. She also has a thing for Silver adornments such as necklaces and rings.
Eve has no tattoos but has a number of brands burned into her hands and feet as well as one ( A diamond shaped mark) burned into her forehead.
Personality and interests
An introvert by nature she holds strong distrust of people and their motivations. In fact the harder an individual tries to come off as friendly and likable is even more of a reason not to like or trust them.
Add religion to this mix and Eve will avoid the individual like the plague.
Eve lives by the guiding philosophy that 1) Life is Suffering and... 2) People always want something and will use you to get it.
History/place of origin
Goth Girl/College Student from the 1990s.
Eve L comes from an version of earth where it was seemingly always night and the Church of the "One Truth" held an iron grip over both the government and the lives of your average citizen exploiting both the faith and the superstitious beliefs of the people.
In her world there exists a very strong belief in superstitions as well as things like Vampires, Witches, and Black Magic but to be honest Eve L could not tell you if they were real or just tools the church used to control the population.
Role (take this however you want)
Living Dead Girl " Like the Song."
Thoughts and goals about their current situation
Eve L might wonder at the why of being here but like most situations that she has found herself in over the years she chooses simply to accept it until choices need to be made.
Secretly she suspects she might be dead and this place may in fact be the afterlife or even purgatory. ( Though admittedly this is not what she had pictured. )
Sexuality (just for flavor)
Bi-sexual ( Prefers females but is not really against the idea of a guy if the right one should appear.)
Flaws (required)
Eve L drinks, smokes, and indulges in recreational sex and drugs as the mood strikes her. Eve L also has a fairly long criminal history that includes your typical crimes such as the sale and possession of drugs and theft. Oddly her record also includes consorting with demons and the use of witchcraft. ( Both she will deny.)
As outgoing as she pretends to be Eve L hates large gatherings and loud people. ( The clubs and nightspots she once often frequented with her so called friends are included on that list)
Eve also doesn't really have "friends" in so far as she classifies most people in terms of those she can or can't trust as well as those she can or can't stand to be around.
Song (a song (or songs) that you feel best represents aspects of them)
Why Do I - Unknown Brain
---
This character is not owned by anyone. You can adopt them if you become a member of this game.
Character questions
Recent Activity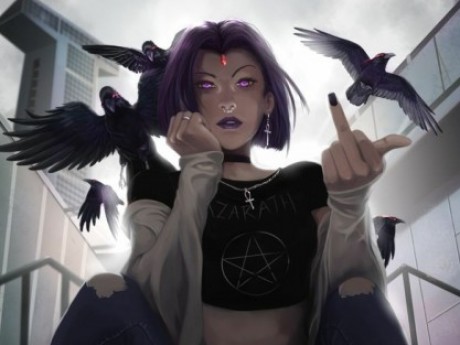 Mentioned in the post
Amazing
Nov 2, 2020, 3:10pm
Mentioned in the post
Concerning
Oct 13, 2020, 11:37am
Mentioned in the post
Ideals
Oct 13, 2020, 11:15am
Mentioned in the post
Time
Oct 9, 2020, 1:19pm
Mentioned in the post
Small Talk
Oct 9, 2020, 12:53am
Updated character profile
Sep 22, 2020, 10:18am
Updated character profile
Sep 22, 2020, 10:11am
Updated character profile
Sep 22, 2020, 10:03am
Updated character profile
Sep 22, 2020, 10:01am
Updated character profile
Sep 22, 2020, 10:00am
Updated character profile
Sep 22, 2020, 8:44am
Updated character profile
Sep 22, 2020, 8:32am
Updated character profile
Sep 22, 2020, 8:25am
Updated character profile
Sep 22, 2020, 8:18am
Updated character profile
Sep 22, 2020, 8:00am
Updated character profile
Sep 22, 2020, 7:58am
Updated character profile
Sep 22, 2020, 7:54am
Updated character profile
Sep 22, 2020, 7:51am
Updated character profile
Sep 22, 2020, 7:47am
Updated character profile
Sep 22, 2020, 7:37am
Updated character profile
Sep 22, 2020, 7:31am
Updated character profile
Sep 22, 2020, 7:30am
Updated character profile
Sep 22, 2020, 7:28am
Updated character profile
Sep 22, 2020, 7:15am
Updated character profile
Sep 22, 2020, 7:15am
Updated character profile
Sep 22, 2020, 7:13am
Updated character profile
Sep 22, 2020, 7:13am
Updated character profile
Sep 22, 2020, 7:10am