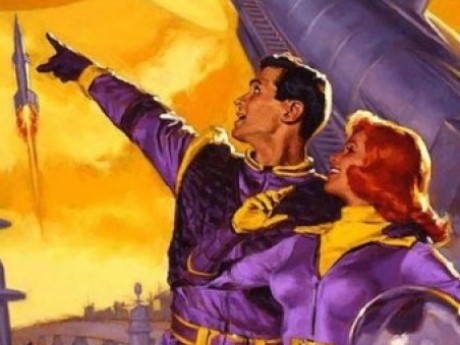 Description
By the year 1955 B.T.Y. Humanity has reached far into the stars, having almost fully mapped out the Galaxy (through help from many sources, such as giant sentient space dolphins which map whole star clusters with their sonar blasts). Through the thousands of years it took for this to be accomplished, the Conglomerate of Races has taken many a bloody nose in the pursuit of Galactic Harmony, but still, it weathers on, gaining wisdom from its experiences and developing to overcome them. One such development is the Galaxy-spreading, crime-fighting, space-exploring organization known by many names in many myriad languages, but commonly called...
the Spacestronauts.
Any race can become a Spacestronaut, as long as they can suit up, hold a raygun, and pilot a starship. Its not uncommon to see human and alien Spacestronauts working in tandem, and using their individual abilities to fight intergalactic crime and solve the Conglomerate's problems. Intelligence is important as a Spacetronaut, but heart is required; not all problems can be solved by just a raygun or plasma-drill, after all!
Spacestronauts can be found in many places across the colossal Galaxy, but they are usually rare, since the organization has so much ground they must cover. Its common for just a few Spacestronauts to have to guard whole sectors! Therefore, these adventurers must be of the greatest sort, not just some regular joes.
Will you be a Spacestronaut?
Will you fight for the Conglomerate of Races?
Or, will you stay a common joe, shuffling off to work?
Well, whatever you choose, please remember to be happy, and, as we all know, keep safe around Syga IV!
*End of State-Funded Video Program*
---
Story Posts
Action!!!!
Oct 8, 2020, 9:36pm by DragonDennis
Richard stowed what little gear, then hr went looking for the place to eat. Because two things he learned is eat when you can & people talk more over food. as expected the food was ...
Showing 4 out of 6 posts
---
Post Summary
We're only able to show post summaries on games with 20 or more posts.
---
Moderators
herosvsbandits
Members
There are 3 members in this game
Pending Members
There are 1 members in this game