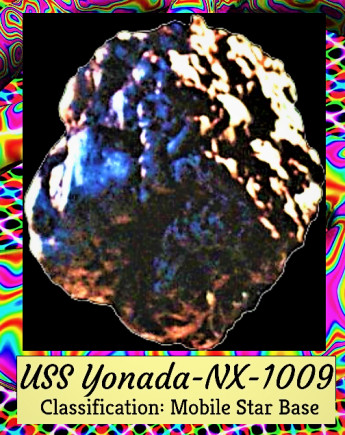 Description
Star Trek TOS, based on the premise that the UFP and Star Fleet have negotiated use of the Fabrini Asteroid Ship from The Original Series, for use as "Mobile Star Base".
The Star Fleet International Chapter, the "Hecate Battle Group" is thus now Based out is the recently Commissioned: "USS Yonada, NX1009". It's Shakedown Mission is Routine Patrol of the Federation Klingon Empire.
The Game/Role-Play, will take place aboard the different Federation Star Ship and in whatever in This Shakedown Mission and any other situation the Battle Group finds ITself In.
========================================================
For Access, and Membership Information Email:USSYonada@mail.com.
---
Story Posts
Getting Down to Business
Apr 20, 2021, 4:49pm by BlindIdiot
After Capt. McCulloch shows Acting, CSO, Dr. Kuan-yin Tickner, to his quarters. CSO, Tickner, joins the Capt. in his ready room. "Well, Dr. Tickner, what do you think of this little ...
Showing 4 out of 5 posts
---
Post Summary
We're only able to show post summaries on games with 20 or more posts.
---
Game Information
Created by : BlindIdiot
Category : Star Trek
Number of characters : 4
Number of posts : 5
Created : Mar 22, 2021
Moderators
BlindIdiot
Members
There are 2 members in this game
Pending Members
There are no pending members in this game