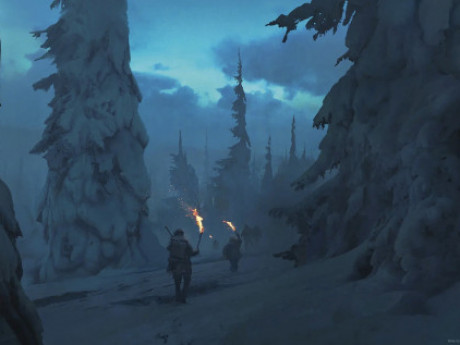 Description
Here we are, at the edge of the world,
Here we stand, deep in a frozen wonderland,
This icy tapestry, it sings to us,
It tells us here we are, we are alive,
And in the Spine of the World, we shall live, and we shall love,
Welcome to Lonelywood, the smallest of the Ten Towns that stand as frontier towns in the Spine of the World. Not just against the goblins and the orcs that make the Spine their home, but against the harshest of conditions these hardy folk not just survive, but thrive in this place of neverending winter. In these most desolate of lands, the brave men and women of all races that make up the Ten Towns make their living, and each day they survive is testament to their courage and hardiness.
You are the children of these frontiersmen and women. You are the next generation, and here in Lonelywood you have never known anything but the chill, frozen winds of the north, and the eternal snows of this perpetually frozen hinterland. Yours is not a bad life, anything but. Despite the adverse conditions, yours is a life of idyllic, yet hardworking peace. Sheltered from the worst excesses of the Spine of the World by the Lonelywood forest on one side, and the river Maer Dualdon on the other side, the town itself is a friendly, welcoming one.
It is not the sort of place that you would choose to leave voluntarily, yet even now, events elsewhere spiral out of control. Fate will soon play its hand, and you will be caught up in events that are far beyond your control -- soon you and your friends will be forced to leave your sheltered home and thrust out into this harsh, frozen world beyond -- where each day will be a fight against the elements themselves for survival. And when mother nature itself is against you -- let alone the twisted, misshapen monstrosities that make their home in this far-reaching corner of Faerun, what chance do you have?
Far, far under the snow, trapped in its prison of ice, a dark presence begins to stir. Consciousness comes to it slowly, as this being wakens from its slumber. And it remembers. It remembers shadowy echoes of a world left long behind, another age when mortalkind wielded mighty magicks and fearsome powers unremembered now. Those times are long gone, and humanity now is nothing but an empty, soulless fragment of what it once was. It moves, and as it does tendrils of rot and decay probe outwards from its wakening mass.
Soon, the bringer of the dark will walk the Realms once more, and the world will tremble at its coming.
---
Story Posts
Small but feisty!
May 30, 2021, 10:46pm by Drake64
With eyes less keen in the dark than elves and goblins, but more so than humans, Ned was just able to perceive that something was going on around them in the darkness. Something was weaving ...
Showing 4 out of 21 posts
---
Post Summary
| | Jan | Feb | Mar | Apr | May | Jun | Jul | Aug | Sep | Oct | Nov | Dec |
| --- | --- | --- | --- | --- | --- | --- | --- | --- | --- | --- | --- | --- |
| 2021 | | | | | 21 | | | | | | | |
---