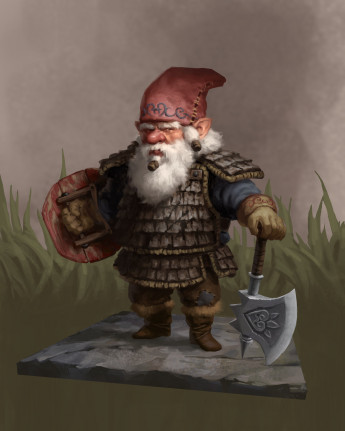 Summary: "Who ye callin' a pipsqueak, ye ogre!"
Ned
Gender: Male
Age: 39
Group: Protagonists
Game: The Spine of the World
Appearance
Ned stands at average height... for a gnome. He is about two feet tall, with a thin, with dark green eyes, and a long white beard which has become quite unkempt. Like most og his kind, he wears a pointy red hat.
Most wouldn't know it, being the only gnome in Lonelywood, but Ned is quite unlike others of his race. There is a sparkle in his eye that yearns for more than simply that which is expected of him. What most would know, is that he drinks way too much and is at least a week overdue for a bath.
He carries an enchanted axe, which others might mistake for a toy or at least a modestly sized meat cleaver. On occasion, it strikes with unparalleled force and deadly efficiency. Other times it transforms into a chicken and completely humiliates him.
Personality
Ned has absolutely no affinity for magic, clock building, or windmills. As such, most other gnomes regard him as quite eccentric. He longs for just one great adventure before old age and infirmity set in. Like most gnomes however, he does enjoy the occasional pint or twelve. Which considering his generally ill temperament, has lead to a few bar room fights. Now, underestimating a drunken gnome is generally a difficult thing to do. But surprisingly, Ned hasn't lost all of them. Being punted across the saloon floor a few dozen times has lead him to become quite the skilled knee-capper in a fight.
He doesn't realise it yet, but he will soon see his unconventional lifestyle take him further
Backstory
Long ago, Ned left the rolling hills and windmills of the gnomish homeland behind, seeking adventure and opportunity. Twenty years later, things haven't exactly gone according to plan. With him, he took the ancestral weapon of his family; Snagga. Snagga is an enchanted gnome-sized battle axe, capable of staying dragons! But most often, not. It seems that the wizard who placed the enchantment had a sense of humor, as the weapon also has the ability to transmute into a wide assortment of useless and embarrassing objects and even an ill tempered chicken.
But with old age creeping in, especially for a short-lived gnome, it seems as though any chance of adventure has all but slipped through his fingers. Nowadays, Ned spends the majority of his time toiling away in the farriers shop and drinking his earnings away in the pub.
---
This character is not owned by anyone. You can adopt them if you become a member of this game.
Character questions
Recent Activity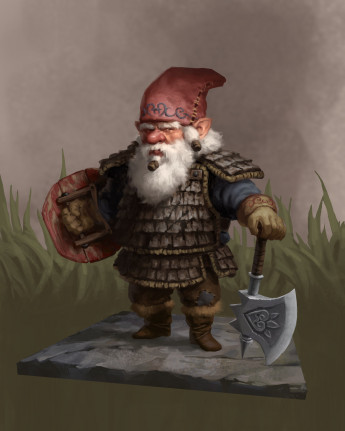 Mentioned in the post
Problems
May 27, 2021, 8:51pm
Updated character profile
May 16, 2021, 4:58pm
Updated character profile
May 16, 2021, 10:32am
Updated character profile
May 16, 2021, 10:24am