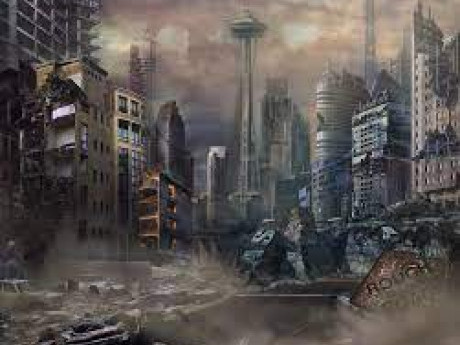 Description
When the end came, we were not ready. But then, how could any of us predict what was to come on that fateful day? It began when the sky itself split open with an eruption of inky blackness that obscured the sun beneath its black embrace. At first we all thought it was an eclipse of the sun and moon. The truth of it though soon became quickly apparent, that this was no eclipse -- this was a rift that had opened up a gate into the netherworld.
First came the bodiless spirits, dreadful keening spectal beings whose terrible song caused those who listened to it to go mad. Stripped of humanity, these men and women who were once human turned into mindless feral beings, tearing those who stood in their path limb from limb and devouring them.
This in itself would have been bad enough, yet worse was to come.
Those who died that night would not stay dead. Almost as if the black rift had the ability to deny souls their passage to the next life, the dead rose once more as decaying rotten husks that once lived. Inflicted with an insatiable hunger, their only need was to feed on the blood of those few that remained alive. A single scratch from their rotten fingernails would cause their victims to decay slowly from within, until finally they died in excruciating agony before rising as a living corpse.
That was not the end of it. As the rift boiled again, spitting forth a vast horde of twisted, nightmarish creatures I knew, as we all did, that this was the end of all things. Against this, humanity could not stand.
It was not until long afterwards that I realised our own hubris had brought us to this point -- yet by then it was too late.
~~
The world before this Age of Eternal Night has become nothing more than a faint and ghostly memory, spoken of in nothing more than whispered stories over a covered campfire. Now, the bodiless dead and the shambling corpses have claimed the remnants of this world as their own. And while there are still some isolated pockets of people cowering within the shadows of broken stone buildings, civilisation has disappeared, torn apart between the claws and screams of the dead.
The living are a sad and pathetic lot, reduced to nothing more than scurrying around like rats concerned with nothing than their continued survival. The broken world is bleak, it is cruel and it is brutal.
Yet, for a collection of poor, desperate souls, their lot is about to change. Forced from safety by a catastrophic event, they are forced to flee for their survival chased by the living dead and the dead living. In their hands they come into possession of a strange item that may, just may, possess the means to close the rift once and for all. This item makes them hunted, not just by the dead but the living also, possession of such an artifact by those with more nefarious thoughts would be terrible indeed.
And, beyond all of them, the true architect of the cataclysm watches them with covetous eyes.....
---
Story Posts
Haunted
May 18, 2021, 1:25pm by Valen
He moved towards the sliding door, finally giving in to temptation. As he did so, memories flitted back to him in his mind's eye. The night just gone. Every night since it happened...... ...
Showing 4 out of 4 posts
---
Post Summary
We're only able to show post summaries on games with 20 or more posts.
---
Moderators
There are currently no moderators for this game.
Members
There are no members in this game
Pending Members
There are 1 members in this game