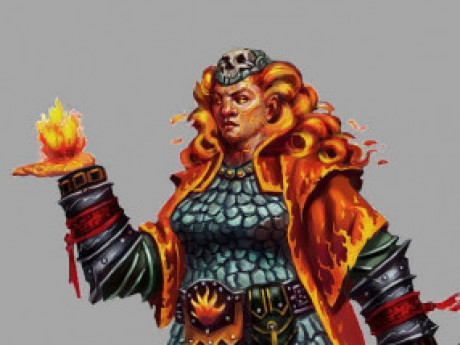 Summary: A large merchant
Sizza Firmir
Owned by:
Enderslayer
Gender: Female
Age: 211
Group: Merchants
Game: Kingdoms of Silver and Blood
Nationality/Loyalties
Vinn
-----------
Sizza's trading Co.
Rank/Title
Merchant
Race/Appearance
Fire Giant
-------------------
20 ft tall, she is has orange skin, firey hair, and amber eyes. She wears the common clothing of fire giants in Vinn.
Personality and interests
She is very outgoing, being friendly to everyone, no matter the race. She likes to spread business, and can't help herself in hiring people who need jobs.
History
Sizza lived most of her life in Vinn, however she was tired of how humans or "small folk" were treated, so she took some slaves and made a great carriage for herself, and traveled afound Zancrom, starting a merchant business.
Arms/Equipment
Giant carriage, a fire hammer
Goods
Skills/Talents/Abilities
She is a skilled merchqnt who is fire resistant, and can hear twice as good as humans. She has great strength of a fire giant.
Fears/Phobias/Weaknesses
Doesn't do so well in the cold.
---
This character is owned by: Enderslayer
Character questions