Characters in this post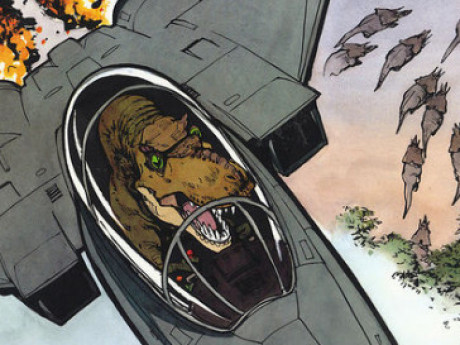 View character profile for: Captain Dinosaur
Edible
"MOTHER FUCKER!!! LET ME GO!! LET ME GO MOTHER FUCKER!!!"
Tim was handcuffed. His arms had been pulled behind his back and through the dowels of a straight backed wooden chair. Then the cuffs hand been applied. Strong plastic zip-ties held his bare ankles to the legs of the chair. He was naked.
"PLEASE LISTEN I'M SORRY JUST LISTEN…"
Then he'd been pushed, screeching wood over wood, into the dining room and parked in the place of honor.
Head of the table.
Alone in the dark.
"LISTEN LISTEN LISTEN. PLEASE LISTEN. I HAVE MONEY. MY DAD HAS MONEY. I CAN GET YOU MONEY I CAN…"
"shhhhhhhhhhhhhhhhhhhhhhhhhhh…"
Tim froze at the sound. He was being hushed. He stayed silent.
"dinner time…"
Tim's eyes cut down to the table set before him. It was massive, oaken, and every place was set; plate, fork and knife, a linen napkin folded neatly. The only seat without a place setting was his.
The far end of the table faded into the gloom.
"PLEASE…"
"nonononononono… no one must be silent timothy see I know you have name…"
Tim whipped his head around in panic, searching frantically for the voice, desperate to know who was speaking.
"easy to do not easy to be…"
Tim shut his eyes. He squeezed them together as hard as he could, straining the muscles in his face to force his eyelids closed. His breathing was rapid and snot began to run from his nose.
"dinner time timothy babies gotta eat mommies gotta eat daddies gotta eat people gotta feeeeeeed…"
Mortified. Naked and weeping. Handcuffs cutting into his wrist, his feet going numb from the plastic ties. Terrified. He yelped pitifully.
With a shocking clatter, a hurricane of steel landed on the table in front of him. Knives, meat tenderizers, cleavers, kebab skewers, a meat thermometer and a bone saw. Another contraption he recognized as a meat grinder. He began to hyperventilate.
"see table it turned..."
A bottle of barbecue sauce landed among the kitchen utensils. Tim felt his asshole tighten and his bladder loosen.
"new time revolution everything for everyone nothing for myself fight back…"
Tim was sobbing. They knew he had a name and they were gonna eat him. He knew it and the idea drove him to full body convulsive weeping.
"WHY? WHY ME?"
The light was shocking, blinding in its brightness. Tim blinked away the spots in his eyes, shaking spit and mucus from his lips and nose.
Finally he looked up and in that brightness he saw them.
The cows.
"call them timburgers…"
And they were on him.
____________________________
____________________________
____________________________
*This post brought to you by edible marijuna*