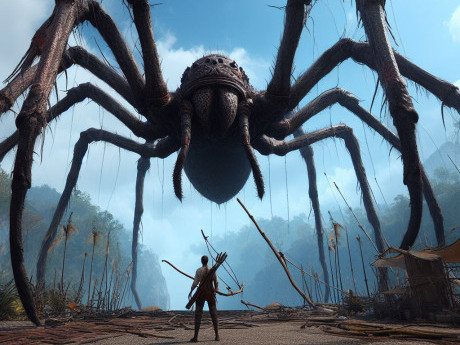 Description
Scientists foresaw the impending collision of meteors with Earth nearly two years in advance, taking exhaustive measures to prepare humanity for the cataclysmic event. Bunkers and safe houses were meticulously constructed deep within the Earth's crust, triggering a global state of emergency. Governments crumbled, cities succumbed, and lives were lost. However, the true challenge emerged after the meteorites collided.
Within these celestial bodies lay millions of minuscule eggs, unbeknownst to anyone. Upon impact, these eggs hatched, unleashing a horde of baby-spider-like aliens upon the world. The existence of these extraterrestrial creatures remained concealed for almost a century, revealing itself only when the remnants of the human race cautiously resurfaced. Generations had been born underground, shielded from the sun's light, and the survivors rejoiced to witness signs of their planet's recovery. Yet, their jubilation was short-lived.
The once diminutive aliens had matured into colossal beings, towering at nearly 20 feet in height, each adorned with eight legs and formidable, razor-sharp pincers. Humanity now faced three grim choices: to triumph over these monstrous invaders, to remain hidden underground, or to succumb to an inevitable demise. The struggle for survival in this post-apocalyptic world had only just begun.
---
Story Posts
A Book Worth Reading
Nov 24, 2023, 3:52am by DancingPenguin
Ellie is silent for a long moment, mind going through various calculations and choices to be made. Emrys does not come off as dangerous, his posture and expressions genuine, but can she trul ...
Showing 4 out of 11 posts
---
Post Summary
We're only able to show post summaries on games with 20 or more posts.
---
Game Information
Created by : BiscuitDiety
Category : Horror Apocalyptic Mature
Number of characters : 3
Number of posts : 11
Created : Nov 19, 2023
Moderators
BiscuitDiety
Members
There are 2 members in this game
Pending Members
There are no pending members in this game