Summary: A Stormtrooper who will avenge her husband by missing every shot she fires, as is the Imperial way.
Ria Kalowyn
Gender: Female
Age: 24
Group: Sith
Game: Star Wars: Balance of the Force
Race
Coruscanti Human
Ability/Skill
- Droid maintenance, programming, and repair, particularly on popular medical droid units.
- First aid and triage.
Rank/Title
Specialist, Imperial Army
Physical Appearance
Ria has short cropped blonde hair and blue eyes. She is fairly tall for a human female at 5'11" (1.8 meters) and has a fit body, as is appropriate for a soldier.
Personality
Ria is infamous amoung her friends and family for being passionate and impulsive, making big and small life decisions with her heart and with minimal thought. At her best, she is kind an compassionate to those she loves and respects, while at her worst she is impatient and quick to judge. She also has a vengeful streak a mile long.
History
Born to an upper-middle class family on Coruscant, Ria did well for herself in school but ended up marrying her primary school sweetheart, Kai Kalowyn shortly after they graduated. Kai then enlisted in the Imperial Army while Ria pursued further education in robotics.
Ria's first real job was as a medical droid mechanic for the local hospital system, where she taught first aid and triage so that she could make sure that the droids she oversaw were doing there jobs correctly and she knew how to correct them accordingly if they weren't.
Ria held this job for a few years until she learned that her husband had perished at the Battle of Endor shortly after that cataclysmic event, afterwhich she resigned her position and enlisted in the Imperial Army herself to avenge her husband.
Due to her job experience, Ria was assigned to be a droid technician and combat paramedic and was stationed on the fortress world of Lanos, which is where she finds herself now...
Special Items/Ships
Standard Issue E-11 Blaster Rifle,
Standard Issue fitted Stormtrooper Armor,
Datapad,
Med-kit,
Her wedding band.
Items/Ship Descriptions
The wedding band is made of gold but is otherwise unexciting.
---
This character is not owned by anyone. You can adopt them if you become a member of this game.
Character questions
Recent Activity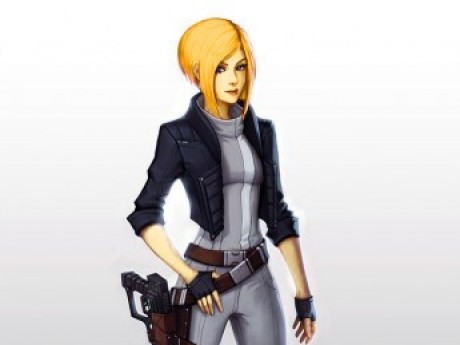 Updated character profile
Aug 29, 2020, 2:26pm
Mentioned in the post
The box
Apr 11, 2020, 4:28pm
Updated character profile
Jan 19, 2020, 9:17pm