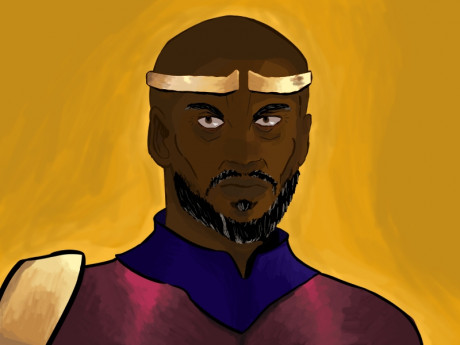 Summary: King Kwade, the King of the great nation of Aelmere. Long live the King.
King Kwade Okigwe
Owned by: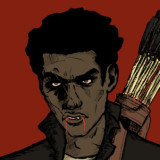 DaMasterT
Gender: Male
Age: 56
Group: Lords/Ladies
Game: Dark Age of Aeran
Nationality/Loyalties
Loyal to the Aelmerian crown and the Hofstadt-Okigwe Royal family.
Title/Rank
Monarch of the Kingdom of Aelmere
King Kwade I
Race/Appearance
King Kwade has ancestry from the Kharwandu Kingdom south of Zatar, however removed. Kwade is a dark-skinned human man in his mid 50s, and his face is hardened by experience and war. While bearing no scars, Kwade has the appearance of a stern general, and he runs his Kingdom as such. Despite his age, his body is still strong and his frame is still bold; he boasts the visage of a warrior who wears the noble robe only as a formality, ready to rip it from him and fly into a rage at a moment's notice if need be. His royal robes tend to be rather reserved with simple colors or textures, and even they usually have bits of practical armor attached, as does his common wear. The crown, once a large and bulky thing worn by the last monarch, has been reduced to a simple golden band around the head with a segmented arc in the front.
Personality/Interests
TBA.
Brief History
TBA.
Arms/Equipment
TBA.
Talents/Abilities/Advantages
TBA.
Fears/Weaknesses/Phobias
TBA.
Favorite Sayings or Quotes
TBA.
---
This character is owned by: DaMasterT
Character questions