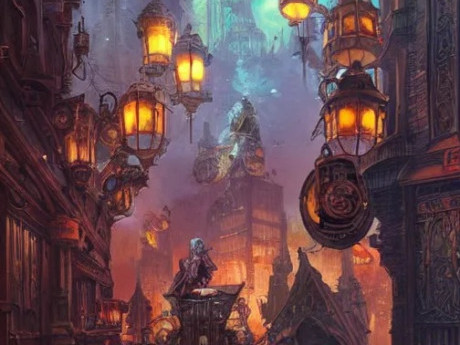 Description
The Order of the Moon is a game that combines elements of steampunk, fantasy, and horror in an alternative Earth setting. It's the Victorian Era and your character has been asked to join The Order of The Moon, a secretive group, funded by a select elite group of the upper class. Your group of fellow adventures are to be sent on tasks that are best the general public doesn't know about.
This is an alternative Earth setting, so while the Earth is the same, some things have been changed. Magic is a powerful force, and welcomed in many parts of this world. Not just humans but Eldren, Dwarves, Gnomes, Orcs, amphibious beings known as Araunda, and mixed races are all available to make into PCs.
This is a steampunk/fantasy world so technology is more advanced than the Victorian Era found in the history books. *Note: all technology is steam-powered, clockwork or a combination of both. No electric or gas powered machines.
The etiquette of Victorian society is very similar but women have far more of a standing in this world, in parts of Europe, especially England and France.
Religion is important but different from that of the real world.
Please read the game information page before making a character.
So choose a race and skills, and decide if your character will have magical abilities or not. And get ready to join the Order of the Moon.
---
Story Posts
Interrogation
Dec 2, 2023, 1:29am by Cindy
JP with Redsword, Lasersexpanther and Cindy May 12, 1889 Ellington Estate, Paris Late night Sung smiled and walked behind William's chair. checking the chains making sure Williams ...
Showing 4 out of 260 posts
---
Post Summary
---