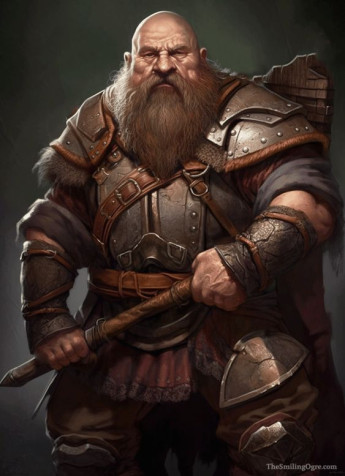 Summary: Let the Hammer Decide!
Krosik Blackiron
Owned by: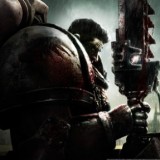 red_sword7
Gender: Male
Age: 70
Group: Knights/Warriors
Game: Dark Age of Aeran
Nationality/Loyalties
Krosik is neutral between Verden and Yore. Despite this, an uneasy but fruitful peacetime for Krosik he is unsettled by everything happening between them.
Devout follower of Agnon.
Title/Rank
Master Crafter
Blackiron Fire Hammer Crafting Guild position Artisan
Rune Fighter Defender of the Old Ways
Blackiron Rune Crafter or Travling Hammer
Race/Appearance
Mountain Dwarf
He can see in darkness shades of gray up to 60 ft. (120ft)
Stone knowledge Whenever Krosik checks related to the origin of stonework who, when, and what type Krosik is proficient in the skill.
They have an advantage against poison and resistance against poison damage.
Krosik is 70 years old a powerful build Dwarf muscular and fit. At 190 pounds Krosik can be intimidating when he needs to be. Krosik stands at 4' 8". His red-brown hair and hazel eyes. The tan skin shows the work that Krosik has done above ground and him a good looking for a Dwarf.
Personality/Interests
Krosikis bound by his Clan law, tradition, and personal codes. Krosikis is well known for his work, and He wants to make sure everyone appreciates it. Krosikis is always taken aback when people haven't heard of him. Krosikis believes that anything worth doing is worth doing right. Krosikis can't help it he is a perfectionist. He works hard to be the best there is at his craft.
The workshop where Krosikis learned his trade. This is the most important place in the world to him.
Krosikis or Dwarfs in general are determined and loyal, true to their word, and decisive in action, sometimes to the point of stubbornness. Krosiki has a strong sense of justice, and he is slow to forget the wrongs they have suffered. A wrong done to one dwarf is a wrong done to the dwarf's entire clan, so what begins as one dwarf's hunt for vengeance can become a full-blown clan feud.
His Clan the Blackion are Devout followers of Agnon their temple is a big one in the Iron Mountains it claims to be one of the oldest in all the lands.
Brief History
Krosik grew up on the border between Verden and Yore. His Parents died being killed by a large bandit raiding party that attacked the home Krosik was raised in the home of a family Aunt and Uncle in a wealthy lifestyle with a Large home. Krosik's childhood others saw him as being different or strange, and so he had few companions. They were jealous that he could do anything he put his hand to. Seeing his talents Krosik's Uncle who belonged to the (Blackiron Fire Hammer Crafting Guild) crafting guild made a place for Krosik. He grew quickly in knowledge and skill learning from the best in the clan and crafting guild. Krosik was even impressive in combat and was one of the better fighters there. Krosik's Uncle schooled him in the ancient family way of Runes. Not that was all that easy Krosik found out quickly fire is hard to control and was injured by the effect of the Rune.
Krosik was about 60 now. Horrible Bandits descended on Krosik's community, killing his Aunt and Uncle. Krosik took up arms to destroy those types of people and others of a similar nature. Krosik went on adventures destroying those Bandit parties. Krosik found a considerable amount of treasure on his adventures. but there was a downside there was bandits held Krosik prisoner for 4 months until some adventurers Knights came along and killed them.
Krosik is an established and respected member of the Blackiron Fire Hammer Crafting Guild, He can rely on certain benefits that membership provides. Krosik's fellow guild members will provide him with lodging and food if necessary, and pay for his funeral if needed. In some cities and towns, a guild hall offers a central place to meet other members of his profession, which can be a good place to meet potential patrons, allies, or hirelings.
Guilds often wield tremendous political power. If Krosik is accused of a crime, Krosik's guild will support him if a good case can be made for his innocence or if the crime is justifiable. Krosik can also gain access to powerful political figures through the guild if Krosik is a member in good standing. Such connections might require the donation of money or magic items to the guild's coffers.
Arms/Equipment
Adamantine Armor half plate, Adamantine maul, Adamantine Battleaxe, Crossbow light, Adamantine Handaxe, Adamantine Spiked Shield, Adamantine Warhammer, Adamantine maul, Bedroll, Blanket, Climber's Kit, Lamp, Oil (flask), Piton, Traveler's Clothes, Clothes Fine, Bag of Holding, Dagger, Mess Kit, Rations, Rope, Hempen (50 feet), Smith's Tools, Tinderbox, Torchs, candles, Waterskin, crossbow bolt case, crossbow bolts (20), a maker's mark chisel used to mark handiwork with the symbol of the clan of craters you learned your skill from a gem worth 10 gp A brass ring that never tarnishes a dragon's bony talon hanging from a plain leather necklace.
Mule, (Named Iron), Heward's Handy Haversack, Brewer's Supplies, Calligrapher's Supplies, Carpenter's Tools, Case Map or Scroll, Forgery Kit, Leatherworker's Tools, Mason's Tools, Rope, Hempen (50 feet), Smith's Tools, Tinker's Tools, Cartographer's Tools, Cartographer's Map Cases.
Dwarven Rock Ferret: (Dusty) is a well-trained large cat-sized creature with sharp teeth, Rock Ferret have long and slim bodies with medium to long fur. They also have rounded ears, sensitive whiskers, and short muzzles. black to dark brown guard hairs with a white or cream undercoat. Rock Ferret have very dark brown eyes, and their noses are black and bushy tails. 25" long 18" high, and 20 LB. weight It has a natural thick skin and tough fur. Its blood has a high acid base allowing it to be resistant to poison. It is a playful, reclusive, and wary personality. Often characterized as catlike, these discerning yet diminutive Rock Ferret can make for outstanding companions. Rock Ferret often vocalizes animal noises. A rasping purr indicates pleasure, while a hiss means unpleasant surprise. A cat-like represents desire, and a growl always means anger or discontent.
Keen Senses: The Rock Ferret has an advantage in (Perception) that relies on sight, hearing, and smell, and can see in darkness up to 60ft
Magic Resistance: The Rock Ferret has an advantage against spells and other magical effects.
The Rock Ferret serves as a pet and magical telepathic bond with that willing companion. While the two are bonded, the companion can sense what the Rock Ferret senses as long as they are within 1 mile of each other. While the Rock Ferret is within 10 feet of its companion, the companion shares the Rock Ferret Magic Resistance trait.
Bite Attack: bite damage much like a dog and very damaging like a dagger
Poison Attack: when one creature gets bitten, the bite is unusual because of its saliva. Its blood has a very it's acid content they think with this Rock Ferret it uses its saliva to help break down hard hides. So, when you are bitten by Rock Ferret you get poised and an acid burn that breaks down flesh. Rock Ferret has been known to spit its poison acid up to 10 feet. Rock Ferret possesses postsynaptic neurotoxic venom. Rock Ferret venom symptoms: cause necrosis, blood flow to the tissue, and the premature death of the body's cells. This causes tissues - like muscles - to slowly wither away and begin to have seizures, loss of eyesight, and muscle depolarization death within an hour.
Talents/Abilities/Advantages
Warrior trained in Unarmed Fighting, proficient in worrier weapons, and armor. Krosik is a master at the shield
Krosik for a Dwarf is much more agile than most.
Krosik is a Master Clan Crafter and has many skills as a Brewer, Calligrapher, Forgery, Carpenter, Leatherworker, Mason, blacksmith, Tinker, Calligrapher, and Jeweler.
Languages: Common, Dwarvish, Giant, Elf
Common skills Athletics, History, Insight, Intimidation, Persuasion, Insight, Survival.
He can see in darkness shades of gray up to 60 ft.
Stone knowledge Whenever Krosik checks related to the origin of stonework who, when, and what type Krosik is proficient in the skill.
Rune Fighter
(Fire Rune) While wearing or carrying an object inscribed with this rune, Krosik proficiency is raised for any ability proficiency with a tool.
In addition, when Krosik hits a creature with an attack using a weapon, you can invoke the rune to summon a fier that wraps around the target doing fire damage, and it burns for 1 minute. Once Krosik invokes this rune, Krosik can't do it again until he rests for 4 hr.
(Frost Rune) Giant's Might increases his damage in a fight. While wearing or carrying an object inscribed with this rune, you have a greater influence on Animals and Intimidation.
Krosik can invoke the rune to increase Krosik's sturdiness. For 10 minutes, Krosik gains more strength and health. Once Krosik invokes this rune, He can't do so again until Krosik can't do it again until he rests for 4 hr.
(Stone Rune) Krosik has an advantage with (Insight), and Krosik has a dark vision of 120 ft. When a creature Krosik can see within 30 ft. of him, Krosik can use his reaction to force the creature to be dased by Krosik for 1 minute. While dased in this way, the creature has a speed of 0 and is incapacitated, descending into a dreamy stupor for one minute. Once Krosik invokes this rune, Krosik can't do it again until he rests for 4 hr.
(Storm Rune) Krosik has an advantage on Arcana, and Krosik can't be surprised as long as Krosik isn't incapacitated.
Krosik can invoke the rune as a bonus action to enter a prophetic state for 1 minute or until he is incapacitated. Until the state ends, when Krosik or another creature he can see within 60 ft. of Krosik makes an attack or uses a skill, Krosik can use his reaction to cause to have an advantage or disadvantage on skills or attacks. Once Krosik invokes this rune, Krosik can't do it again until he rests for 4 hr.
Runic Shield: When another creature Krosik can see within 60 ft. of him is hit by an attack, Krosik can use a reaction to force the attacker to hesitate.
Great Stature The magic of your runes can alter his height: 5'8"and weight 250. He Dose Duble Damage. He becomes Large, along with anything Krosik is wearing. If Krosik lacks the room to become Large, his size doesn't change. Can activate it 4 times then Krosik can't do it again until he rests for 8 hr.
Rune Shaper: Krosik can't do so again until Krosik can't do it again until he rests for 8 hr.
Burning Hands: Rune Fire to summon a fire doing good damage. Range 15'
Chromatic Orb: Rune Dragon to summon a 4-inch-diameter sphere of energy at a creature that He can see within range. Krosik can choose acid, cold, fire, lightning, poison, or thunder for the type of orb Krosik creates. Range 90'.
Thunderwave: Rune Storm to summon a wave of thunderous force that sweeps out from Krosik. Each creature in a 15-foot cube originating from Krosik damage is good. In addition, unsecured objects that are completely within the area of effect are automatically pushed 10 feet away from him by the spell's effect, and the spell emits a thunderous boom audible out to 300 feet.
Comprehend Languages: Rune knowledge For the duration, He understands the literal meaning of any spoken language that Krosik hears. Krosik also understands any written language that He sees, but Krosik must be touching the surface on which the words are written. It takes about 1 minute to read one page of text. Last 1 hr.
Fears/Weaknesses/Phobias
He always has nightmares of his Clan being slaughtered by bandits.
Arrogant – haughty, conceited, exaggeratedly self-important.
Judgmental – critical and disapproving, often in an outspoken way.
Intolerant of stupidity – He cannot deal with the stupid people. Not everyone is stupid but He swears that the world is getting dumber by the day. His view is those who have perfectly good brains but apparently refuse to utilize them.
Favorite Sayings or Quotes
"Never turn down an ale, who knows if it may be your last"
"Guard your life, guard your gold, guard your beard. In that order."
"Wherever there are Elves, there are lies"
---
This character is owned by: red_sword7
Character questions
Recent Activity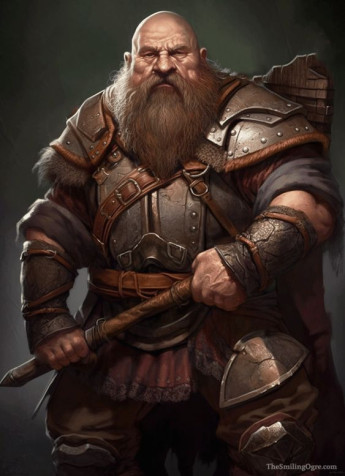 Updated character profile
Sep 22, 2023, 1:00am
Updated character profile
Sep 22, 2023, 12:55am
Updated character profile
Sep 22, 2023, 12:00am
Updated character profile
Sep 21, 2023, 11:35pm
Updated character profile
Sep 21, 2023, 11:18pm
Updated character profile
Sep 21, 2023, 11:11pm
Updated character profile
Sep 21, 2023, 11:04pm
Updated character profile
Sep 20, 2023, 7:33pm
Updated character profile
Sep 20, 2023, 12:47pm
Updated character profile
Sep 19, 2023, 6:02pm
Updated character profile
Sep 18, 2023, 11:17pm
Updated character profile
Sep 18, 2023, 10:33pm
Updated character profile
Sep 18, 2023, 7:22pm
Updated character profile
Sep 18, 2023, 7:18pm
Updated character profile
Sep 18, 2023, 7:13pm
Updated character profile
Sep 18, 2023, 7:09pm
Updated character profile
Sep 18, 2023, 12:43pm
Updated character profile
Sep 18, 2023, 1:06am
Updated character profile
Sep 18, 2023, 12:49am
Updated character profile
Sep 17, 2023, 11:14pm
Updated character profile
Sep 17, 2023, 8:56pm
Updated character profile
Sep 17, 2023, 8:48pm
Updated character profile
Sep 17, 2023, 8:44pm
Updated character profile
Sep 17, 2023, 4:11pm
Updated character profile
Sep 17, 2023, 1:29pm
Updated character profile
Sep 17, 2023, 1:28pm
Updated character profile
Sep 17, 2023, 1:31am
Updated character profile
Sep 17, 2023, 1:27am
Updated character profile
Sep 16, 2023, 5:21pm