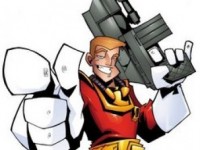 Summary: Annoying, Bratty, hold on a second let me pull out my thesaurus.
Herbie Columbus
Gender: Male
Age: Unknown
Group: Civillians & Other
Game: Blue Dwarf
Species
Slightly Human
Job
Ex-Space Pirate & Pro Surfer
Physical Appearance
Herbie is incredibly lanky, he has strawberry blonde hair. He also has a rather cheeky grin that he likes to impress the ladies with from time to time, he wears general red space gear.
Personality and Interests
Herbie has always been quite a fan of cartography and navigation. He was once a space pirate captain and he also is not to bad a surfer not that exactly helps anything does it?
History
Herbie was born in a Martian ghost town. His parents grew up hating his cheek so they gave him up nad handed him to Herbie's aunt Christine Columbus. Christine was a space pirate, in fact she was captain. The captain of the SS Blue Whale a large derelict mining ship. Herbie and his aunt Christine were the best of friends and the worst. You see one day Herbie threw his dear old aunt overboard, it was his time to shine. He made himself captain of the Blue Whale. At the age of twenty three he had early retirement, bored of pillaging and navigating. So he bought a very expensive starship from some dodgy GELF traders and called the SS Blue Whale II. He decided to go on a holiday in his ship, seeing the uncharted galaxies. But one day everything changed, genius overloaded the ship's engine. With no choice he put himself in statis. Until one day something happened...
Favourite Sayings
"Names Herbie, Herbie something another?"
"Who is in charge of this establishment!"
---
This character is not owned by anyone. You can adopt them if you become a member of this game.
Character questions
Recent Activity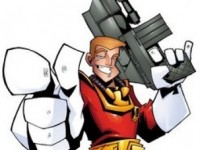 Updated character profile
Jun 23, 2014, 4:05pm
Mentioned in the post
The Choice
Jun 17, 2014, 9:09am
Mentioned in the post
Trapped
Jun 17, 2014, 5:01am
Mentioned in the post
Canteen
May 15, 2014, 4:34pm
Mentioned in the post
Strike
Apr 26, 2014, 12:50pm
Updated character profile
Dec 20, 2013, 12:13pm
Updated character profile
Dec 12, 2013, 10:22am
Updated character profile
Dec 12, 2013, 10:10am