Characters in this post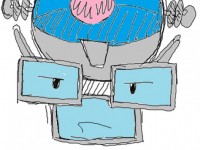 View character profile for: Dr. Artemis K. Pritchard VI
The Darker Side of Morally Questionable Science
Posted by
Posted: Oct 13, 2014, 11:28pm
Serraco Interstellar Industries...we'll do great things together
The motto of Artemis' mortal enemy (other than the Jupiter Mining Corporation, Lars Lindstrom and his cohorts, the Roo scientist who stole his work on splicing cute animals together to make CUTE animals, the entire country of Morocco, not one, or two, but three separate drug cartels that refused to peddle his products (apparently even cartels have morals), Disney Imagineering, the Merchants Association, and the now deceased geologists from Blue Dwarf's mining department), and one of the biggest and shadiest corporations in the galaxy. Their R&D division was at constant war with Charon Labs while Artemis was Lead Researcher in the Innovative Sciences Dept, with corporate spies stealing his designs for what would go on to be Serraco's best selling robot lines (Artemis got even by allowing them to steal a robot that later slaughtered an entire research division in an "accident").
He wasn't surprised at some of the crazy shit they had pulled on Fernandos, and that it was ultimately their undoing.
EMPLOYEE CENSUS, DAY 1450 OF MISSION: 1,522 ALIVE, 11 WOUNDED, 5 DEAD
EMPLOYEE CENSUS, DAY 1458 OF MISSION: 0 ALIVE, 0 WOUNDED, 2522 DEAD.
The dilapidated display flickered, casting a broken green glow across Artemis as he studied the long lost data and listened to his Funk of the 20th Century playlist. In just over a week the entire staff had been killed, not counting the PANTHEON mercenaries that were left behind by the company.
It was staggering. Artemis had seen countless individuals, firms, and corporations pay for their arrogance (hell, the fact that he was, as his comrades put it, a "floating fish bowl" was the latest in a long line of consequences he had paid for his arrogance), but this was insane. Artemis scrolled back to some of the lab logs.
<<GENETICS DIVISION//LABORATORY REPORT//DAY 1450>>
WE'VE CONDUCTED SEVERAL MORE EXPERIMENTS WITH THE MODIFIED SERUMS. SO FAR, THE RESULTS HAVE BEEN SOMEWHAT SATISFACTORY. THE SUBJECTS HAVE BUILT MUSCLE WHILE LOSING ALL BUT A SLIVER OF THEIR NATURAL BODY FAT, IN ADDITION, THEIR ORGANS HAVE FALLEN IN LINE WITH OUR PROJECTIONS. WHILE THEY'LL HAVE SOME PROBLEMS MAINTAINING INTERNAL HEAT, THEY'LL BE QUICKER, AND IF THE LATEST TESTS PROVE ANYTHING, MORE RESILIENT TO DAMAGE. DESPITE THIS, DIRECTOR PEWTER THINKS THAT THE RESULTS AREN'T SATISFACTORY AND HAS ORDERED OUR GENETIC ENGINEERS TO TWEAK THE SERUMS. IT'S ALWAYS ABOUT PROFIT WITH THOSE CORPORATE BOYS, THEY DON'T UNDERSTAND THE SCIENCE BEHIND WHAT WE'RE DOING.
<<GENETICS DIVISION//LABORATORY REPORT//DAY 1452>>
THERE WAS AN ACCIDENT IN THE GENETICS LAB. THE COMPUTER MISREAD ONE OF DR. GREENE'S CALCULATIONS AND CAUSED IRREPARABLE DAMAGE. WE'VE BEEN ORDERED TO CONTINUE TESTING DESPITE THE FACT THAT THE SERUM IS HEAVILY WARPED, GOD ONLY KNOWS WHAT WILL HAPPEN WHEN THE SUBJECTS ARE GIVEN IT TOMORROW.
<<GENETICS DIVISION//LABORATORY REPORT//DAY 1455>>
IT'S ALL GONE TO HELL. THE SERUM CAUSED SEVERE MUTATIONS TO THE SUBJECTS, CAUSING THEM TO GO BERSERK. I MANAGED TO DISSECT ONE OF THE NEW SUBJECTS, THE MUTATIONS ARE HORRIBLE. THEY'VE LOST A LOT OF BODY MASS, AND A LOT OF THEIR BRAIN CAPACITY. THEY'RE EMACIATED, FERAL MONSTERS...WHAT'S WORSE IS THAT A FEW ESCAPED, AND THAT THEY'VE ALREADY KILLED SEVERAL STAFF. WE'RE IN TROUBLE.
<<GENETIC DIVISION//LABORATORY REPORT//DAY 1458>>
TOTAL SYSTEMS FAILURE, WE'VE GOT ALL KINDS OF THINGS GOING WRONG DOWN HERE. ON TOP OF PANTHEON SHOWING UP (THEIR VERSION OF DAMAGE CONTROL IS TO DESTROY EVERYONE AND EVERYTHING INVOLVED), WE'VE GOT ALMOST EVERY EXPERIMENT WE'VE DONE OVER THE PAST FOUR YEARS OUT OF CONTAINMENT. THE NANO-PHAGE IS SLAUGHTERING ANYONE ON THE UPPER LEVELS AND HAS ESCAPED THE COMPOUND INTO THE ENVIRONMENT, THE MUTANT GELFS HAVE EITHER ESCAPED OR TAKEN UP RESIDENCE IN THE NOW OVERRUN LABS DOWN BELOW. I'VE BANDED TOGETHER WITH THE REMAINING STAFF TO TRY AND ESCAPE. THE STARBUGS HAVE BEEN SABOTAGED, SO WE NEED TO FIND ANOTHER WAY OUT.
Artemis always knew that Serraco was evil and corrupt, but he never witnessed it first hand. He could only guess what else Serraco had left behind in their absence....
On the light side, however, Artemis had found some interesting research data on their genetic engineering and robotics experiments, a good deal of the data would come in handy back on Blue Dwarf (some for the greater good, the rest for Artemis' sole gain...he still had a job to do after all).
He scrolled through the experiment database, gathering all the files he could cram into his auxiliary harddrives, between his own experiment data and MS paint masterpieces his children had made (he couldn't bare to part with either, because of sentimental value, and because he would never hear the end of it when he got back, respectively)
"Good scientific theory, this is going to keep me going for the next few decades! Giving raccoons intelligence and gunnery skills, cyborgs with rippling muscles, human brains in robots, robot brains in humans, human and robot brains in computers! While a good deal of this is redundant and oddly comedic, the rest is positively marvelous!"
He practically drooled over the gigabytes of files that were streaming in. As he was reading the names, he noticed one that reminded him that he was marooned here....Starbug Hyperdrive Experiment Logs
"Oh, yes, the matter of getting off this swampy rock...." he said aloud, to the skeletons sharing the room with him.
He checked out the logs on the experiment. The results were terrifying, with 9/10 vehicles being torn to pieces due to the overpowered and poorly installed engines stuffed in the back. The other one....went places....dark ones. They had some starbugs left over from the experiment when it was cancelled due to the mounting deaths and mysterious disappearances. Most of the Starbugs were stripped down for testing and only had the essential components left. Thrusters, control equipment, and....no life support equipment.
The test pilots were given enclosed suits and independent oxygen supply so that the engineers could eliminate more "deadweight". There were probably some flightsuits lying around, and the Dwarfers could use the atmospheric processors to fill the oxygen tanks left in storage. As for the actual shuttle itself...
Artemis took a quick look at the most recent inventory report. Unfortunately, most were scrapped and used for repair parts, only two of the mothballed shuttles were kept around. They were in pieces....one in better condition than the other. Shuttle 55-D was their ticket off the planet. All it needed was a thruster, some holes patched, and fuel.
"Well, it's three million years old, stripped down to the bones, and there's a fifty percent chance it'll fall apart on the trip back, but it's a way out..."
<tag>
We've got a way out...sorta. It's in bad condition and in need of a new thruster, fuel, and it has some holes that need patching. In addition, it has no life support, so everyone (that needs to breath, at least) needs to find flight suits. Whoever pilots this thing is gonna have a hell of a fun time trying to keep it from killing us.
Also, there's a whole army of mutants standing between us and escape....and enough ordnance on the surface to kill them (just sayin')