Summary: A brooding giant, though still fairly hospitable. Prefers quiet places of natural beauty.
Erik
Owned by: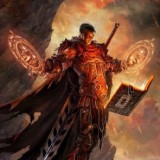 LucianNepreen
Gender: male
Age: 65
Group: People of Midgard
Game: Beyond the Ragnarok
Race
An oddly intelligent Jotunn
Class
Warrior
Alignment
Chaotic Lawful
Physical Appearance
13-ft tall, otherwise looking surprisingly human, has longer arms than normally proportioned . Covered in scars and burns from being trapped by bandits aided by the gods. Long shaggy hair on head and face, as well as a decent covering on his body from living as a wanderer.
Now bears a vicious looking scar from a Valkyries blade on his shoulder.
Personality and interests
Very calm demeanor(for a Jotunn), can be reasoned with most of the time, though has a seething hatred for bandits and other evil-doers. Loves nature and feels at home in most natural terrains, while also feeling very uncomfortable around civilization. Distrusted the gods and openly rejoices their demise.
History
Doesn't speak much of his youth, but when he was in his 40's, was captured by bandits using enchanted chains that restrained him when he tried to strike his captors. Was forced to become beast of burden/war beast until he helped a group of the gangs captives escape, they in turn found a way to break the chains(He has never specified how).
Starting Equipment
Wooden long bow, arrows, thick leather and dragon scale armor and a war hammer.
Special Skills
High endurance and strength, while also displaying a fair knowledge in battle tactics.
Darkest Secret
He has met the Harlequin before, the circumstances of their meeting leaving him free of his binds and forever burdened with guilt.
---
This character is owned by: LucianNepreen
Character questions
Recent Activity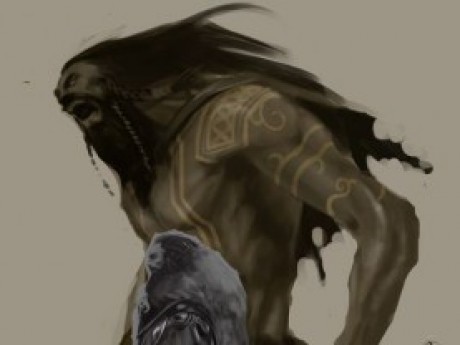 Mentioned in the post
Raven
Jun 4, 2021, 6:32pm
Mentioned in the post
Town Bound
Mar 28, 2021, 4:39pm
Mentioned in the post
Sprint
Mar 27, 2021, 7:31pm
Updated character profile
Jan 24, 2021, 11:55am
Updated character profile
Dec 21, 2020, 11:45pm
Updated character profile
Aug 17, 2019, 3:46pm
Updated character profile
Apr 27, 2018, 12:02pm
Updated character profile
Apr 27, 2018, 12:02pm
Updated character profile
Apr 27, 2018, 12:02pm
Updated character profile
Apr 27, 2018, 12:02pm
Updated character profile
Apr 27, 2018, 12:02pm
Updated character profile
Apr 27, 2018, 12:02pm
Updated character profile
Apr 27, 2018, 12:01am