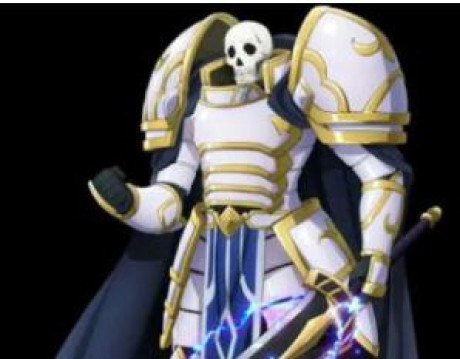 Summary: A Skeleton Paladin trying to discover his past
Sir Arc
Owned by:
Jaxx
Gender: Male
Age: Unknown
Group: Priests/Priestess
Game: Dark Age of Aeran
Nationality/Loyalties
Unknown
Title/Rank
Current: Homunculi - Skeleton in Paladin Armor
Former: Human Paladin
Race/Appearance
Current: Homunculi - Skeleton in Paladin Armor (White with gold and blue trim and a blue cloak). There is a large blue gem on his sternum.
Former: Human Paladin
Personality/Interests
Arc is still learning about himself and how he ended up like a skeleton. He is a nice guy with a warped sense of humor. He is afraid to show his skull face unless he can trust that person since he resembles a monster. He travels to find clues to his past since he can't remember much. Oddly enough he still gets hungry and thirsty.
Brief History
One day Arc wakes up in his armor under a tree. Feeling thirsty he makes his way to a nearby river to quench his thirst. Seeing his reflection in a river, he is shocked to discover that his appearance is that of a skeleton. Though his memory is messed up he remembers being a human in the past. In unfamiliar territory, Arc decides that it would be best to hide his appearance by never removing his helmet and to search for inhabitants.
Arms/Equipment
Holy Paladin Armor with Holy magic light protection on it and fire/heat resistance.
1 Large 2 handed holy Paladin Holy Sword of Caladbolg that can ignite holy blue fire on it to increase damage. Arc can hold it with one hand despite its heavy weight.
Bag of Holding: This bag has an interior space considerably larger than its outside dimensions, roughly 2 feet in diameter at the mouth and 4 feet deep. The bag can hold up to 500 pounds, not exceeding a volume of 64 cubic feet. The bag weighs 15 pounds, regardless of its contents. Retrieving an item from the bag requires an action.
Talents/Abilities/Advantages
Arc has the healing arts of a Cleric and the battle skills of a seasoned Knight. he has has fire/heat resistance and can be blessed. Although he is a skeleton he is able to still act as a Paladin. His strength is similar to an Ogre despite his skeleton body. Oddly enough he is not affected by death magic.
Fears/Weaknesses/Phobias
He is more afraid of others believing he is a monster when they see his skull face so he hides it.
Favorite Sayings or Quotes
"To take a step into this world, outside of both the world of living and the world of the dead... you must be either very brave or mad."
"I'm not dead I was just soaking in the water."
---
This character is owned by: Jaxx
Character questions
Recent Activity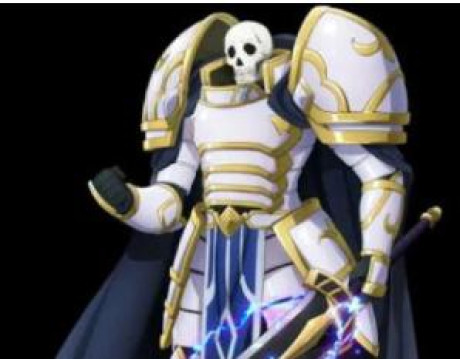 Updated character profile
Sep 18, 2023, 10:02pm
Updated character profile
Sep 2, 2023, 6:41pm
Updated character profile
Sep 2, 2023, 6:36pm
Updated character profile
Sep 2, 2023, 5:15pm
Updated character profile
Sep 1, 2023, 9:10pm
Updated character profile
Sep 1, 2023, 8:44pm
Updated character profile
Sep 1, 2023, 7:54pm