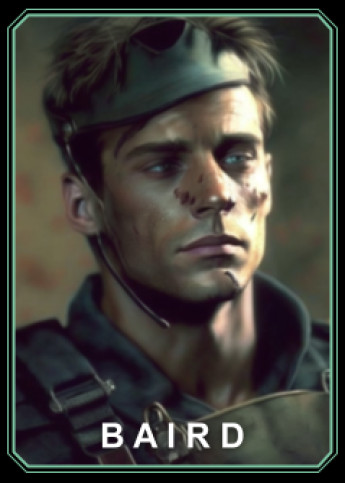 Summary: I'm just the backup... for now.
Cameron Baird (Blue)
Gender: Male
Age: 23
Group: Sutter's World
Game: ALIEN: Sutter's World
Career
Colonial Security | Militia
Personality
It's a modern battlefield—that means remote driven dropships, robot sentry guns, computer controlled bombs, and worse. Blue is the squad's TechCom—skilled with computer systems, radios, diagnostic and hacking devices.
Stats
4 Strength
3 Agility
5 Wits
2 Empathy
4/4 Health
Skills
1 Close Combat
4 Comtech
2 Mobility
2 Ranged Combat
1 Stamina
Buddy
Red
Rival
Pending
Signature Item
Lost friend's dog tags
Talent
Remote
You are qualified to set up, control and repair remote sentry guns and other remotely-controlled battlefield devices, and to pilot remote vehicles and Pups.
Receive +2 to COMTECH rolls to carry out these tasks. The correct equipment is needed in all cases. A portable uplink terminal, for example, is needed to remote pilot a dropship, EVAC fighter or APC.
Gear
VP-70MA6 Semi-Automatic Pistol
M3 Personnel Armor + M10 Ballistic Helmet
Hand Radio
Woodland Camo
Acrylic Military ID Key (clear electronic access Dog Tags)
Access to Quartermaster and Outfitter
---
This character is not owned by anyone. You can adopt them if you become a member of this game.
Character questions
Recent Activity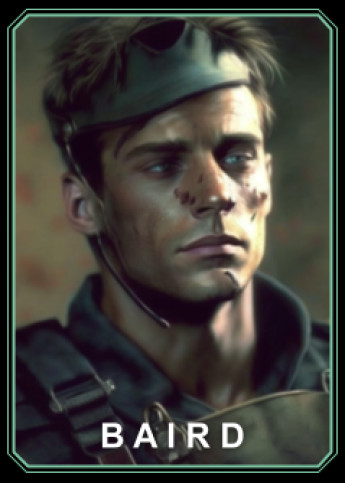 Mentioned in the post
Breathe…
Sep 28, 2023, 11:06pm
Mentioned in the post
Containment
Sep 28, 2023, 10:45pm
Mentioned in the post
Beep Beep
Apr 28, 2023, 11:50pm
Updated character profile
Apr 28, 2023, 10:24pm
Mentioned in the post
Swarm Storm
Apr 22, 2023, 10:28pm
Mentioned in the post
Bugs
Mar 25, 2023, 5:02pm
Mentioned in the post
Baby Beast
Feb 25, 2023, 2:31pm
Updated character profile
Dec 31, 2021, 2:30pm
Updated character profile
Dec 28, 2021, 9:28pm