Characters in this post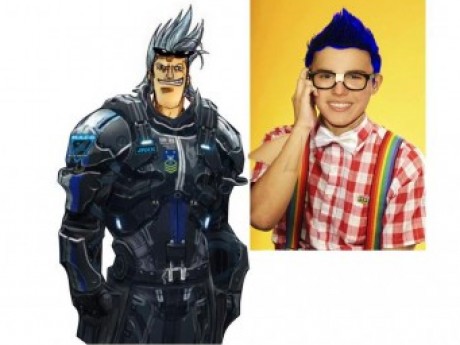 View character profile for: Jaxx/Bif Biggles (Away)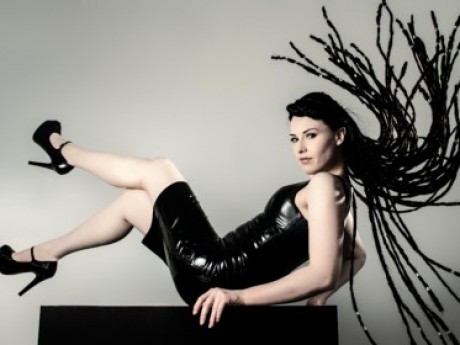 View character profile for: Evelina Stone (Away)
In the Spotlight
Posted by
Posted: Oct 30, 2013, 11:32pm
<snip>
As Skutter Jaxx rolled toward his destination he saw a large banner that read "2013 Annual United Sci-Fi Convention on the famous Vegas Strip." Skutter Jaxx was still not sure what was going on as he continued to search for Eve babe in the Bioshock section.
<snip>
Skutter Jaxx eventually found his way to the Bioshock section and saw a huge man in an old space suit following a young creepy little teen girl with a large and small syringe. As he approached the young girl Skuuter Jaxx asked her in a monotone voice, "Yo kid do you know where I can like find Eve babe?" The little girl giggled as she looked at Skutter Jaxx and replied, "Sure Mr. Robot. Here is some Eve." Then the young creepy female squirted some blue jelly from her small syringe at Skutter Jaxx." Skutter Jaxx backed up as he yelled, "Not cool kid! What was that for?" The creepy girl replied, "You asked for some of my Eve. Did you want some of my Adam too?" The creepy girl raised her large syringe full of red jelly. Skutter Jaxx backed off as he replied, "No thanks I'm good." As Skutter Jaxx rolled off some of the customers and workers were giggling at him.
Suddenly Skutter Jaxx bumped into a small robot that resembled a Skutter. Skutter Jaxx asked, "Yo dude can you help me find my friends? I am totally lost." Just then one of the two men walking up to the robot replied, "Sure little buddy just follow us." As the two men picked up the robot and carried it off. Skutter Jaxx followed them through some doors and into a hallway. Skutter Jaxx noticed some space people and some people with modified skutters along the way. After a while the two men entered a room full of people and modified skutters. One of the men looked at Skutter Jaxx and said, "Well your friends should be here little guy. Good luck out there." Skutter Jaxx rolled around to find anyone from the crew with no luck. As he stopped to scan the room, Skutter Jaxx was distracted by a nerdy looking young girl frantically working on a robot with here father. The young girl was very upset since her robot suffered an electrical fire from sabotage The father asked, "What do you want to do honey? The tournament is about to begin." The young girl replied, "I guess we have to give up daddy. I don't have enough time to fix my Bot and we don't have a spare Bot available." The girl looked like she was about to cry as her father said, "I'm sorry baby its not fair and you worked so hard on that Bot to."
Skutter Jaxx looked at the father and daughter and was moved by their need for help. Skutter Jaxx approached the pair and said in his monotone voice, "Woe kid your mellow has been totally harshed. Maybe we can help each other." The father and daughter looked at each other and then at Skutter Jaxx as the father replied harshly, "We are not amused. I don't know who is controlling you but this is not funny." Skutter Jaxx replied, "Chill daddy-o. I am not being controlled. Hec I don't even know where I am. I am trying to find my friends and I am so lost my mind is totally dumbfounded. The girl looked at Skutter Jaxx and moved side-to-side real fast as she watched Skutter Jaxx keep up with her. The she said, "Daddy I think he is telling the truth. His reaction time is to fast for a remote control and why would it sound like a speak and spell surfer of all things." Skutter Jaxx replied, "Huh? Sorry kid I ain't following ya to well." The dad looked around and didn't see anyone looking at them with a remote.
The young girl replied, "Well we are in a real fix. My Bot got shorted out and we don't have enough time to get it ready for the next event." Skutter Jaxx replied, "So like what does your robot do?" The girl replied well we make them fight another robot in the tournament." Skutter Jaxx replied, "Sweet! I can fight real good and stuff. So like what are the rules?" The girl replied, "Well no un-tethered projectiles, no fire and no explosives. The arena has some traps to avoid or use against the opponents. We also have a time limit of five minutes or till one Bot can't move anymore." Skutter Jaxx replied, "Sounds easy enough. So if I win for ya will you help me like find my friends?" The girl answered, "Sure thing. Oh by the way my name is Kelly and this is my dad. His name is Mike." Skutter Jaxx replied, "Nice to meet ya. My name is Jaxx.
After Kelly tested Jaxx's skills and covered all the rules for him they headed into the arena for their first match. Then Kelly and Mike wished Jaxx good luck they went to their station to pretend to use their remote while Skutter Jaxx entered the arena and scanned the area. Soon after another Bot entered the ring and took its position. Skutter Jaxx noticed it had a large grinding wheel in the front. Skutter Jaxx replied, "Sorry robot dude but ya gotta go down." After the introductions the signal was given for the Bots to fight. Skutter Jaxx quickly turned on the song "Whip It" by Devo and backed up as the "Mauler" Bot chased after him.
http://www.youtube.com/watch?v=Xbt30UnzRWw
As soon as Skutter Jaxx was near the small pit he whipped out his holowhips and lashed the "Mauler and swung him into the pit to finish him off. After the buzzer rang Kelly and Skutter Jaxx were declared the winner of the first round. It didn't take long before Kelly, Mike and Jaxx were being interviewed on tv as they talked about their amazing first victory.
<snip/>
Evelina looked around and realized she was at a fashion show and she was mistaken for a local model. Evelina thought to herself, "Maybe I should play along till I can figure out where I am and where Jaxx is." Evelina nodded as he slowly stood up and headed towards the dressing rooms. As Evelina entered the room she saw several models getting dressed and make up on. Evelina was quickly greeted by a woman with a clipboard and a pen in her hair, who picked out her outfit and told her to change and get make up on. After changing into the new dress Evelina sat in a make up chair and waited for make up. As Evelina looked around she noticed a banner that read, "2013 Annual Steampunk Fashion show on the famous Vegas Strip." Evelina dropped her jaw as she muttered "Oh smeg."
<snip>
After Evelina worked her magic on the runway while a music video of "Relax" by Franky Goes to Hollywood ran viewed on the wall in the background.
http://www.youtube.com/watch?v=lyl5DlrsU90
The crowd went wild as the designer and the models were given a standing ovation. After a small celebration backstage some models went to a party with the designer. The remaining models took a liking to Evelina and invited her to work a small gig at the Sci-Fi Convention next door. Evelina agreed hoping she would run into her Jaxx or any crew-member at this point and since she was new to the area it was better to have a guide. After a few minutes the models walked down a hallway and past the Battle Bot Tournament to the Sci-Fi Convention where they modeled for the Steampunk vendors as they handed out flyers. Evelina was getting a bit nervous, as she still hadn't seen anyone from the crew. Then after Evelina ran out of flyers she headed back to the vendor and saw some tv monitors viewing a show where robots fight.
<snip>
After the introductions the signal was given for the Bots to fight. Skutter Jaxx quickly backed up as the "Mauler" Bot chased after him. As soon as Skutter Jaxx was near the small pit he whipped out his holowhips and lashed the "Mauler and swung him into the pit to finish him off. After the buzzer rang Kelly and Skutter Jaxx were declared the winner of the first round. It didn't take long before Kelly, Mike and Jaxx were being interviewed on tv as they talked about their first victory.
<snip>

Evelina dropped her jaw as she recognized her Jaxx on tv and quickly asked a stranger where the robots were at. After realizing she past the tournament on the way she quickly made for the door and ran down the hallway to the door for the contestants. Seeing how she was dressed in steampunk gear the guard thought she was one of the models working at the convention and let her in. Evelina quickly made her way to door to the arena so she could see where her Jaxx was. It didn't take long before she saw Skutter Jaxx head towards her with a man and a young girl. Evelina was relieved as Skutter Jaxx and the two others entered the doorway and approached her. Evelina smiled real big as she said, "Thanks goodness your alright Jaxx. I was worried sick I would loose you again." Evelina quickly hugged Jaxx and kissed his claw head. "Jaxx replied, "Hey ya Eve babe. I missed ya to."
TAG