Deleted character
This is an old character & has been deleted.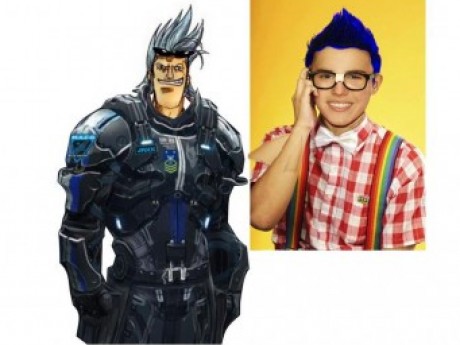 Summary: Part Sharkman, Part Sharknerd with knack for destruction
Jaxx/Bif Biggles (Away)
Gender: Male
Age: Approx 70 but looks 26 yrs old
Group: Security Dept & Ship Defence
Game: Blue Dwarf
Species
GELF (Military Altered-Human Combat Operatives) MACO
Currently
Due to a strange virus Jaxx was split into two personalities. When he ingests meat or blood he turns into Bif till the meat is digested or sleeps it off.
Jaxx is a vegetarian, GELF soldier with a surfer mentality, shark fins, shark gills and normal teeth.
Bif Biggles is Jaxx's alter ego in nerdy/weakling form.
Previously
Jaxx is the last of the MACO breed created by the JMC Corp. The MACOs, (Military Altered-Human Combat Operatives), are part shark and part human. MACOs have enhanced strength, speed and sences including the electrical impulse sence found in sharks. They have gills that can filter toxic gasses as well as breath underwater.
Job
Currently
Jaxx is a Master Chief of special forces MACO squad.
Bif is an Intelligence Officer
Previously
Due to a virus Jaxx has been altered to a slacker vegetarian surfer. So now he is in charge of underwater tasks. Jaxx is also an Apprentice Calamar Monk (Like an Aquatic Shaolin Squid Monk) in training.
Calamar are large telepathic Squids with spider legs.
http://roleplay.wikia.com/wiki/Calamar
Technically his rank is still Master Chief
Husband to Evelina Stone
Previously
Master Chief of special forces MACO squad.
Physical Appearance
Currently
Due to a virus Jaxx now looks like a 6' 9", 26 year old muscular man with tanned skin, shark fins, webbed fingers, webbed toes, shark gills, light blue eyes, light blue hair and normal teeth. Jaxx wears MACO armor.
Bif is the epitome of a geek/nerd, with large, thick taped up eyeglasses, a plaid collared shirt, a bow tie, orthopedic loafers and flood pants held up by multi-colored suspenders. Bif is skinny, weak, pimple faced and has a high-pitched nasally voice. His voice resembles nails on a chalkboard.
Previously
Jaxx looks like a 6' 7", 26 year old muscular marine with tanned skin, black hair, retractable shark teeth, neck gills, retractable fins, retractable claws & aqua blue eyes. Jaxx also wears a black, gray and blue armor suit with slots for his fins. Inside the armor are small nanobots like the ones in the Kryten Mechs, that repair most damage to his body and armor.
Personality and Interests
Currently
Jaxx is a laid back guy with a lot of experience in battle and a surfer mentality. He is semi intelligent and very skilled in violence and destruction.
Bif is usually the primary cause to property damage and/or personal injury as a result of his inventions going awry or his outright clumsiness. While Bif is indeed kind and seemingly means well for others, he tends to be needy, overbearing, and often demonstrates very poor empathy, understanding, and consideration of other people's feelings, especially when they feel negatively towards him (whether those feelings are justifiable or not). He shows little regard or respect for Evelina's choice to love the muscle head version of Jaxx and nags her nonstop to give him a chance. Unlike Jaxx, Bif is highly intelligent and can pick up on highly advanced math, science, patterns and computers, however ironically he cannot swim well or fight his way out of a paper bag. He can even be bound by 2 ply toilet paper. He professes an unrequited love for Evelina and cheese, and perpetually annoys everyone else. Of course Evelina can't stand Bif and tolerates him till he turns back to her beloved Jaxx.
Previously
After returning to Fernandos Jaxx ran into Franky the Squid again. Jaxx 's Calmar (Alien Squid) Master Franky gave up his old and sickly body and possessed Jaxx with his spirit. Now Franky is guiding Jaxx in his lessons till he can get a new body. Of course he is a bit miffed that Jaxx only focused on his combat lessons and avoided his Diplomacy lessons so he is forcing Jaxx to catch up on his Calamar Monk Lessons. However Franky will take over Jaxx now and freak others out with his feminine personality.
Due to a virus Jaxx has been altered to a slacker vegetarian surfer.
Jaxx is in a Surfer state of mind & into the whole Zen of Water.
He is fascinated by water and loves to swim and any water activities.
On land he has a terrible sense of direction, but underwater he is at home.
Jaxx is an amazing swimmer.
He is not very bright, a little slow & non violent unless cornered.
He is now a Vegetarian with normal teeth.
Jaxx has Permanent Amnesia.
His main purpose in life is to solve the mystery of his missing past. The only clue to his missing past is an odd dart he was found holding.
Jaxx is also an Apprentice Calamar Monk (Like an Aquatic Shaolin Monk) in training.
He also likes to spend time with his friend Evelina Stone aka Eve babe and has been trying to win her over the best way he can. Unfortunately his low IQ results in doing something stupid.
Previously
Personality: Jaxx is a typical young marine who loves adventure and likes being seen as the cool/dangerous guy since he is a bit shallow in public, but when he is alone too long and it is a bit too quiet he feels alone in the universe since he is the last of his kind.
Interests: Alcoholism, Tobacco use, Sexual Promiscuity or Deviancy, Huge Appetite, "Sticking to your guns" Attitude, Emotional aloofness, Immaturity, Bad Temper, Laziness, Cursing with the guys only, Stupidity (from genuine ignorance only), Awesome Video games skills, Live Combat, Cooking, Roughing it and lots and lots and lots of Coffee.
Jaxx has a condition that makes him dangerous when starving for 24 hours. When the Hunger Blood Lust takes over Jaxx's eyes become black and he goes on a feeding frenzy till he is full or knocked out.
History
Scrapbook
http://role-play.wikia.com/wiki/Jaxx
Currently
Bif is a flaw in Jaxx's gene code from the beginning. A small amount of DNA from one of the smart but not so talented scientists that was eaten during the original MACO experiment. When he was eaten his DNA was introduced into the vat holding the primordial MACO cloning goo. Since it is weak DNA it can only come out under specific and rare conditions due to a strange virus Jaxx was exposed to. Jaxx left with Franky to train and help restore the Calamar home world through a series of time traveling events. In an attempt to defeat the neurotic Synthoids Jaxx used a modified EMP to deactivate them but was hurt in the process. After a few weeks of tests Franky discovers a flaw in Jaxx's DNA that was activated by the EMP. Apparently now when Jaxx tastes meat or blood the flaw kicks in and turns him into Bif Biggles. However when Bif falls asleep or digests the meat he reverts back to Jaxx. Franky is amused by this and decides to leave Jaxx as is.
Previously
Due to a virus Jaxx has Permanent Amnesia and remembers nothing prior to his first visit on Fernandos. Jaxx is having to learn a great deal of things all over again so in many ways he is like a big dangerous kid. His main purpose in life is to solve the mystery of his missing past. The only clue to his missing past is an odd dart he was found holding.
Recently Jaxx has become an Apprentice Calamar Monk (Like an Aquatic Shaolin Monk) in training.
http://roleplay.wikia.com/wiki/Calamar
Jaxx has developed very strong feelings for Evelina Stone, but is very afraid how she will respond if he ever confessed to her. He hopes that by doing stupid heroic things she will like him more. On many occasions he has defied the laws of physics, nature and death just to be with Evelina. In a way you can say he is to stupid to die and his will power has yet to be rivaled. His secret goal in life is to earn Evelina's love and spend every day trying to make her smile no matter the cost to himself. But could even he survive long enough to make that happen?
The crew takes a Time Jump mission to rescue Cassandra Jones in Regency England during the year 1794 to rescue Cassandra Jones from Brittney only to find they are trapped in 1794 and many of the locals are now possessed by alien spider parasites. After another Time Jump to 2013, in Las Vegas, Nevada -The crew managed to help rescue Cassandra Jones from year the 1794. Now after using the time jump they found themselves in Las Vegas in the year 2013. Evelina and Jaxx (still in a Skutter body) get married at Vegas in 2013 during a wild intoxicated night. They are joined by Alex, Artemis, Boyd, Jacky, Chuck Liddell, a gator (won in an illegal cage match event by Jaxx) an Elvis Minister and lot of cross dressing party goers from Club Sin City. Unfortunately the wedding couple have yet to relax due to the chaos the crew usually brings with them.
After sacrificing his skutter body to save prevent the Blue Dwarf from exploding and saving the crew Cass Jones and Dr. Black managed to return Jaxx's mind to his body. Jaxx was confused but happy to be with Evelina again. Now he must change his violent ways in order to make Evelina happy and get along with the crew.
After several life threatening missions Jaxx and Evelina finally have their Honeymoon. It was a roller coaster of a ride but now Evelina has finally had her 3 million year old virgin.
Previously
Jaxx was created in a lab by a crew of Military Scientists in hopes of building a Super Land/Aquatic soldier with super senses. However while in training stasis his military software was switched to a library of video games when two of the researchers were having an affair on the desk. MACOs are suppose to be the Humans strongest line of defense, unfortunately all but one were wiped out by a mysterious incident . Then after the lab incident Jaxx spent the next 3 million years in stasis playing virtual video games for his training. His rank is based on mastering the game Virtual Halo. His skills for odd tasks stem from other games like Virtual Star Fighters, Virtual Tetris, Virtual Burger Time and so on. Jaxx holds the galactic record on many video games since he did have near 3 million years to hone his skills. However he has only been out of his tank for about 2 years.
Favourite Sayings
Jaxx - "Hey Eve babe." " Not cool bro!" "Sup Dude?" "That was harsh bro."
Bif - "I've fallen and I can't get up!" "Life of the Party," "Did I do thaaaaaaaaaaaaaatttttttttttttttttt?"
---
This character is not owned by anyone. You can adopt them if you become a member of this game.
Character questions
Recent Activity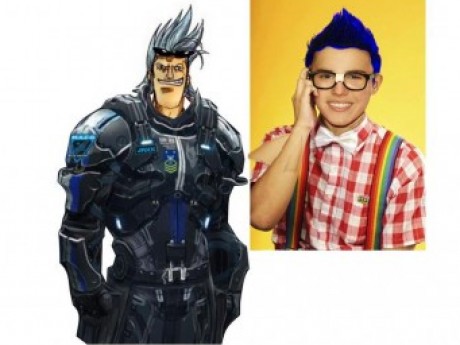 Mentioned in the post
Raided
Aug 4, 2015, 12:35pm
Updated character profile
Sep 29, 2013, 9:28pm
Updated character profile
Sep 29, 2013, 6:51pm
Updated character profile
Sep 29, 2013, 11:03am
Updated character profile
Sep 28, 2013, 10:39pm
Updated character profile
Sep 28, 2013, 8:47pm
Updated character profile
Sep 25, 2013, 11:32pm
Updated character profile
Sep 18, 2013, 4:54am
Updated character profile
Sep 17, 2013, 8:03pm
Updated character profile
Sep 17, 2013, 7:59pm
Updated character profile
Jun 22, 2013, 1:01pm
Updated character profile
May 16, 2013, 4:05pm
Updated character profile
May 16, 2013, 3:49pm
Updated character profile
Mar 20, 2013, 8:22pm
Updated character profile
Mar 20, 2013, 8:12pm
Updated character profile
Mar 20, 2013, 1:21pm
Updated character profile
Mar 17, 2013, 1:35pm
Updated character profile
Mar 16, 2013, 9:21am
Updated character profile
Mar 15, 2013, 9:52pm
Updated character profile
Mar 15, 2013, 8:49pm
Updated character profile
Mar 15, 2013, 8:48pm
Updated character profile
Mar 15, 2013, 8:47pm
Updated character profile
Mar 15, 2013, 8:46pm
Updated character profile
Mar 15, 2013, 8:44pm
Updated character profile
Mar 15, 2013, 8:24pm
Updated character profile
Mar 15, 2013, 8:22pm
Updated character profile
Mar 15, 2013, 8:07pm
Updated character profile
Mar 15, 2013, 8:05pm
Updated character profile
Mar 15, 2013, 8:04pm
Updated character profile
Mar 15, 2013, 8:01pm
Updated character profile
Feb 13, 2013, 7:00pm