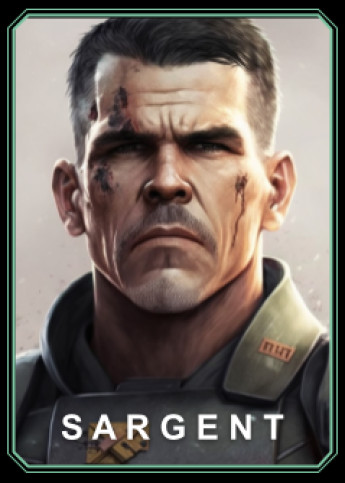 Summary: A sour looking marine that looks like he is a step from kicking canned ass
Corporal Greg Sargent (Red)
Gender: Male
Age: 30
Group: Sutter's World
Game: ALIEN: Sutter's World
Career
Colonial Security / Militia
Personality
Gruff and usually cross with "idiots" and politicians. He follows orders well enough though he chaffs under "stupid" leaders.
Stats
4 Strength
5 Agility
2 Wits
3 Empathy
4/4 Health
Skills
1 Close Combat
2 Mobility
4 Ranged Combat
2 Stamina
1 Survival
Buddy
Blue
Rival
Pending
Signature Item
Bullet that he survived
Talent
Overkill
You don't run and hide when the going gets tough. Instead of panicking in the face of mortal danger, you can turn your fear into aggression and use it as a weapon against your enemy. You can trigger the Overkill effect when you make a Panic Roll.
Gear
RMC F903WE Automatic Assault Rifle
M3 Personnel Armor + M10 Ballistic Helmet
Hand Radio
Woodland Camo
Acrylic Military ID Key (clear electronic access Dog Tags)
Access to Quartermaster and Outfitter
$1200 WY
---
This character is not owned by anyone. You can adopt them if you become a member of this game.
Character questions
Recent Activity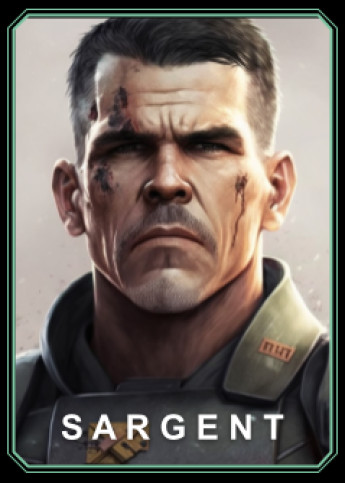 Mentioned in the post
Drainage
May 19, 2023, 10:33pm
Mentioned in the post
Need A Nap
May 13, 2023, 9:51pm
Mentioned in the post
Beep Beep
Apr 28, 2023, 11:50pm
Updated character profile
Apr 28, 2023, 10:24pm
Mentioned in the post
Swarm Storm
Apr 22, 2023, 10:28pm
Mentioned in the post
Bugs
Mar 25, 2023, 5:02pm
Mentioned in the post
Baby Beast
Feb 25, 2023, 2:31pm
Mentioned in the post
Signs
Jan 31, 2022, 8:38pm
Updated character profile
Dec 30, 2021, 2:06am
Updated character profile
Dec 28, 2021, 9:22pm
Updated character profile
Dec 28, 2021, 9:02pm
Updated character profile
Dec 28, 2021, 7:58pm
Updated character profile
Dec 28, 2021, 7:55pm
Updated character profile
Dec 28, 2021, 7:52pm
Updated character profile
Dec 28, 2021, 6:29pm