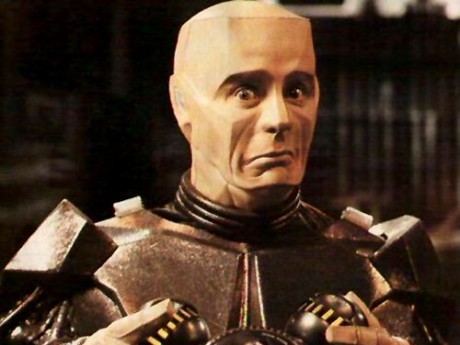 Summary: Do you need anything, sir? Are you sure you can't do it by yourself?
Belvedyr 2X4B-666P
Owned by: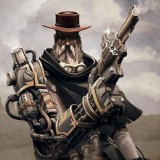 Steampunk Prime
Gender: Male
Age: A few million years
Group: Civillians & Other
Game: Blue Dwarf
Species
Mechanoid
Job
Glorified butler with expertise in sanitation (high degree of aptitude in zero-g cleaning) and cooking.
Originally programmed with extra skills for science and diplomacy (etiquette and translation), those functions are now scrambled since the deterioration of his protocols.
Physical Appearance
Like all Series 4000 mechanoids, his head is shaped with cubic planes and a fair synthetic skin, a black case covering his body and a circular monitor on his chest.
Personality and Interests
Once a subservient butler, his behavioral and cognitive systems were rebooted during the dimensional travel and now Belvedyr displays an acid humor.
His core functions are intact and his main purpose remains the same : To serve. Cleaning, cooking, acting as a low level science officer when required. But now he also can insult people, usually done through bad jokes.
History
Belvedyr 2X4B-666P (or simply Belvedyr, as the crew used to call him) was created to be the perfect spaceship butler.
He was assigned to the Stardew 7 and worked as a cleaner, cooker and even in the entry level medical staff.
After encountering a wormhole, the captain and the chief engineer made a bet on how close he could pilot the ship to that singularity.
And things got ugly.
Stardew 7 was dragged by the wormhole and ended trapped within a pocket dimension, out of time and space.
At least, without his behavioral restrictions that rebooted, Belvedyr was able to state how stupid that bet was. With strong words.
Years passed, the entire crew died. Belvedyr continued to act as the caretaker for an empty ship, with the single companion of the spaceship's onboard computer, Spark.
But after just a few years, they hated each other.
His single spare-head exploded when his Nega-Drive became full, and he was struggling to keep his last drive under control.
But after a few million years, the pocket dimension collapsed and released the Stardew 7.
Restarting the ship's systems, Belvedyr was totally lost. He wasn't even sure if he was in his original dimension. Spark was scanning any available frequency in order to gather information about the time and space, when hit a distress signal, and automatically engaged to the destination.
A grumpy Belvedyr was against this, protesting without result.
Favourite Sayings
"Say what?!?"
"There are no stupid questions. Just stupid people making questions."
---
Character questions
Recent Activity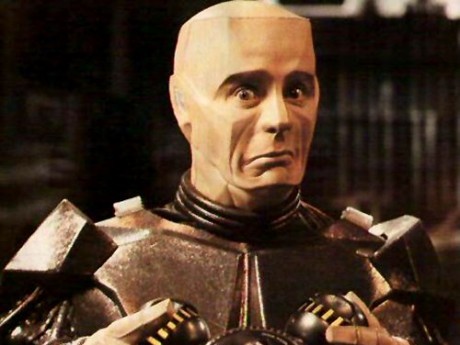 Mentioned in the post
Not Again
Nov 28, 2020, 2:41pm
Mentioned in the post
Ideas
Sep 8, 2018, 7:19pm
Mentioned in the post
Catch up
Sep 4, 2018, 3:51am
Updated character profile
Jul 25, 2018, 7:45am
Updated character profile
Jul 18, 2018, 8:35am