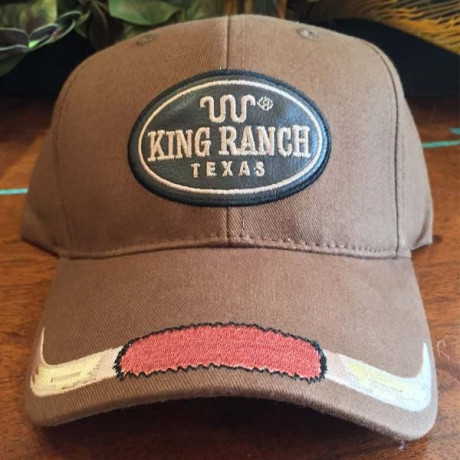 Description
Our story begins in 1853, Captain Ricard King purchased a creek-fed oasis in the Wild horse Desert of South Texas, sparking generations of integrity, perseveration, and innovation.
King now covers 82500 acres-more land than the state of Rhode Island. Over the course of over 160 years, King Ranch led some of the first cattle drives, developed the Santa Gertrudis and Santa Cruz breeds of cattle, bred the finest Quarter Horses, and produced champion Thoroughbreds-all under its iconic Running W brand.
Today's King Ranch is a major agribusiness with interests in cattle ranching, farming (citrus, cotton, grain, sugar cane, and turfgrass), luxury retail goods, and recreational hunting.
Kings Ranch continues to foster a culture of uncompromising quality, stewardship, and authenticity- a true testament to Captain Kings integrity and commitment and commitment to the land.
Today the Kings Ranch is owned and run by his descendent Amelia Kleberg King, however she is getting older and looking to her 4 children to show they can handle the responsibility with her gone. This is that story and the story of the ranch and all its inhabitants along the way.
---
Story Posts
OOC: Is All Good?
Jun 29, 2023, 5:17pm by mdman
Just hoping everyone have a good upcoming Independence Day! I hope all is good! ...
Showing 4 out of 127 posts
---
Post Summary
| | Jan | Feb | Mar | Apr | May | Jun | Jul | Aug | Sep | Oct | Nov | Dec |
| --- | --- | --- | --- | --- | --- | --- | --- | --- | --- | --- | --- | --- |
| 2022 | | | | | | | | | | | | 18 |
| 2023 | 47 | 21 | 1 | 25 | 10 | 5 | | | | | | |
---