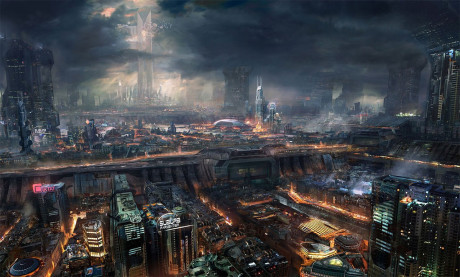 Description
Have you ever looked at the inside of a computer? At the motherboard?
Have you ever looked at the lay out of a city? Kinda looks the same hu?
Welcome to SkyNet City where the future is here and tomorrow is now...Everything they thought the future would be, it is..Robots, flying cars, the whole shebang. Everything is tech, meca and so on. Theres not such thing as physical money only digital credits and if you have enough credits there is no such thing as illness and no such thing as death.
It's been decades since they figured out how to place human consciousness into a synthetic body and even longer since they figured out they could keep humans alive by replacing some parts with tech and while most humans have modifications of some kind, having a completely synthetic body is still really taboo. In fact getting to many enhancements has the same stigma behind it as getting to may nose jobs. Well maybe worse.
That brings us around to the major problems in our city today. The crime rate is through the roof. Its no wonder they had to make the enforcement units, What with all the hacking and illegal enhancements and modern drugs from the underground, oh and we must not forget the hate crimes. Remember how we said it was taboo to have a completely synthetic body? Yeah I wasn't joking. Whole groups are dedicated to hunting them down and killing them and most of society shuns them. But there are also whole groups of people who are fully synthetic that do the same to regular humans. So it's best they stay separated. In fact most people with those kinds of body's live on the outskirts of the city or under it. There is a whole other city under the city pretty much, the normal humans stay in the main parts of the city mostly. But I'm rambling...
I guess the only way to know is to see for your self.....good luck!!
(Please read game info)
---
Story Posts
The Eyes Οf The Fox
May 28, 2023, 8:16am by Harvester
The enforcement units spread out in a radius of 2 blocks to find the killer-thief with the fox mask, from the radio it was heard that he had robbed 8 shops of know-how killing 10 people. The ...
Showing 4 out of 25 posts
---
Post Summary
| | Jan | Feb | Mar | Apr | May | Jun | Jul | Aug | Sep | Oct | Nov | Dec |
| --- | --- | --- | --- | --- | --- | --- | --- | --- | --- | --- | --- | --- |
| 2023 | | | | 18 | 7 | | | | | | | |
---