The Celeb
Posted by
Posted: Jul 28, 2021, 9:05am
Conner stands again clapping for Melissa he had one more to go before he was done playing with Roxy would be next it was almost over be for the ending for him then what would he do there was Blossom and Kaylee how could he divide his time between them Conner wondered if he should just give up and make a decision before someone got hurt.
Backstage Kaylee was watching this performance. Melissa was really good but she was more focused on Conner and enjoying watching him perform. She was actually glad she had gotten to not only see him perform but performed with him.
After Melissa's sang her solo "Love Song" the crowd was very excited and loud. Many were surprised she had that kind of talent and were very have to see it live on stage before them. Ashley was very excited as she was clapping and bouncing from behind Jack. Jack was very impressed by Mel's song and even more impressed by Ashley's chest rubbing against his back. He was looking forward to the end of the concert since he was going to need some alone time to calm his teen induced urges. Ashley had been too close the entire concert and it was a bit over whelming for him.
Blossom and Justin were very excited as they were dancing in place since the crowd as rather close to them. Justin was amused as Blossom seemed to have dropped her shyness during the concerts as the music was enchanting her. The high energy from the crowd was very influential to many of the teens as they were enjoying the shows.
Back stage Roxy Roker was doing last minute touch ups on her props, wireless mic set and outfit as the theater group and stage hands reset the stage. Then to buy time the theater troupe performed a short skit as the props for the stage were being set up.
For the first song, Roxy was going to be on lyrics, Matt on keyboard, Conner on drums and Kaylee on violin. They each had their own costumes on for the performance which resembled construction crew outfits with white t-shirts, jeans/jean shorts, boots, toolbelts, and yellow hardhats. Roxy on the other hand was wearing a white crop top shirt, blue track pants with two white stripes running down the sides of her legs and brown boot. Roxy was chanting to herself to get in her preferred zone as she touched up her make up. This was a ritual before her performances to keep her from getting stressed out. After the MC announced her on the mic, Roxy and the others came out on stage and the crowd went wild as Roxy blew kisses at the crown and waved at them while the others prepped their instruments behind her.
Roxy's Outfit 1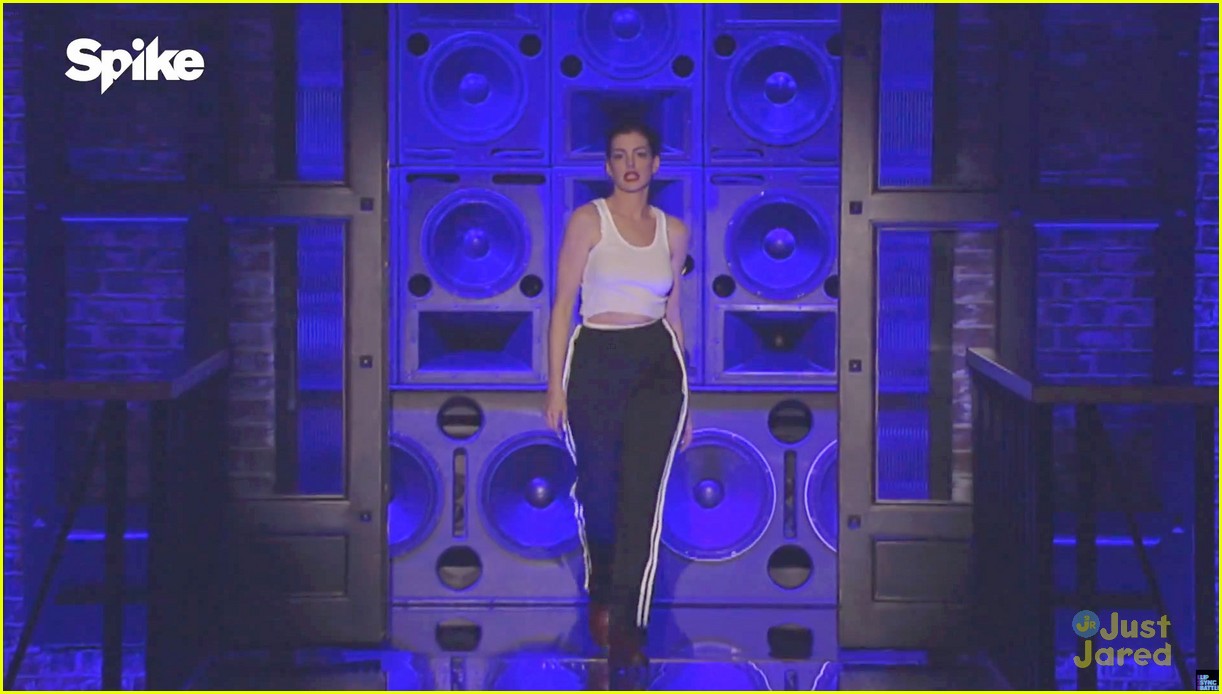 Some of the crowd were confused by her outfit since it seemed a bit downplayed for her being on stage. Then the music began and Roxy began to sing.
The song began softly as Roxy sang and danced to mimic her words. Roxy was really into the drama of her song was her expressions matched her song. Then at the beginning of the chorus. She ripped her sweat pants off and tossed them to the side to reveal her white bikini bottom. She was wearing her white bikini under her white crop top now and sporting small brown leather boots.
Roxy's Outfit 2

Then two male dancers in construction worker outfits came in and handed Roxy a fake sledgehammer as they did a rehearsed dance swinging the fake sledgehammers.
Male dancers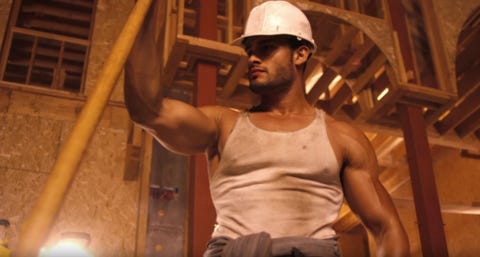 I came in like a wrecking ball
I never hit so hard in love
All I wanted was to break your walls
All you ever did was wreck me
Yeah, you, you wreck me
Then during the slow part of the song the two male dancers moved off the stage as Roxy dropped to her knees and sang on. It truly looked like she was hurting as she sang her song with intense passion. Then for some unknown reason she looked in Jack's direction and sang almost as if she was singing to him:
I never meant to start a war
I just wanted you to let me in
And instead of using force
I guess I should've let you win
I never meant to start a war
I just wanted you to let me in
I guess I should've let you win
Don't you ever say I just walked away
I will always want you
Jack's eyes bulged open as he had a cold chill run down his spine. His mind was telling him to run far away but his body was to scared to even take a step. Ashley on the other hand began to hug Jack tighter as she gave Roxy a crooked smile. Oddly enough this went on un-noticed by everyone else as they were cheering Roxy on. Then Roxy stood up and moved to the side of the stage and came out riding a prop looking like a giant wrecking ball. Then Roxy reached the chorus again:
Roxy on Wrecking Ball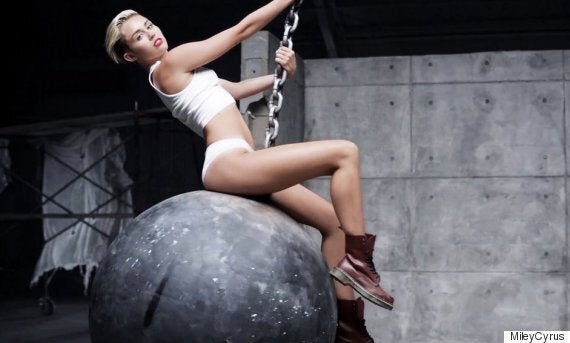 I came in like a wrecking ball
I never hit so hard in love
All I wanted was to break your walls
All you ever did was wreck me
Yeah, you, you wreck me
The crowd went absolutely nuts by her performance as she was still swinging from the wrecking ball till it slowed down enough for her to get off and take a bow. She had a good five minute applause as she gracefully moved off stage while the others managed to remove their tool belts and hard hats before putting on a cowboy hat and vest or plaid cowboy shirt. This time Roxy was going to be on lyrics, JD on guitar, Matt on bass guitar, Conner on drums and Kaylee on keyboard. Roxy quickly put on some jean shorts, a new shirt, vest and a belt.
Roxy's Outfit 3

As she came out again waving at the cheering crowd she thanked them for their support and once again looked in Jack's direction as she smiled and spoke up.
Roxy: Here is a little song that I sing when I want to lift the mood. So I hope you enjoy it. Then the music began to play with JD on guitar and Conner on drums.
Roxy began to dance and sing her song.
I hopped off the plane at L.AX
With a dream and my cardigan
Welcome to the land of fame excess (woah)
Am I gonna fit in?
Jumped in the cab, here I am for the first time
Look to my right, and I see the Hollywood sign
This is all so crazy
Everybody seems so famous
Her dancing at this point was less intense and more of swaying along to the beat. The audience was also into the song as they were singing along and swaying with her beat. She had a lot of fans in the school and at least three fourths of them were big fans of her.
Chorus
My tummy's turnin' and I'm feelin' kinda home sick
Too much pressure and I'm nervous
That's when the DJ dropped my favorite tune
And a Britney song was on
And a Britney song was on
And a Britney song was on
Then as the chorus came on the back of the stage lit up and a video of the American flag illuminated the stage as Rozy stood before it. The others behind her were still playing along as they too were before the bright flag.
So I put my hands up
They're playing my song, the butterflies fly away
I'm noddin' my head like, yeah
Movin' my hips like, yeah
I got my hands up, they're playing my song
They know I'm gonna be okay
Yeah, it's a party in the U.S.A.
Yeah, it's a party in the U.S.A.
Then several red, white and blue lights lit up the stage to enhance the visual performance.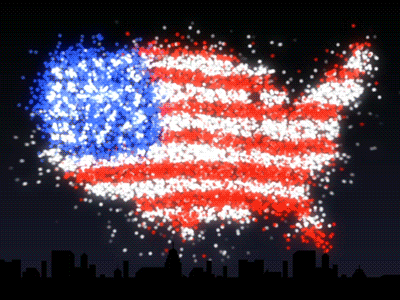 The crowd went wild with the special effects as they cheered loudly and made it somewhat hard to hear the song. Then as her song came to an end they all took a big bow before the excited crowd. It took several minutes and bows to calm the crowd before the next act could take the stage so the helpers used this time to prep the stage for the next performer.
Once they were back stage Roxy thanked JD, Conner, Matt and Kaylee for their performance and told them they were awesome on stage. She also mentioned working with them again they had a big performance like this. She found it fun to not have the pressure of the industry controlling her performance. Then she headed off to change but took a quick peak at the crowd and gave a naughty smile before she when to get some water.
Tag